Interview: Davide Breviglieri, CEO of Azimut Yachts do Brasil
Claudio Paschoa
With 50 years of history, the Azimut | Benetti Group is recognized as the world's largest motor yacht builder (global orderbook 2019). For nearly 10 years Azimut has been producing a wide range of luxury motor yachts in Brazil. Maritime Reporter´s correspondent in Brazil interviewed Italian executive Davide Breviglieri, CEO of Azimut Yachts do Brasil.

Founded in 1969 by Paolo Vitelli, still the main shareholder, the group is present in 70 countries and has a network of 138 sales and service offices, bringing together the successful brands Azimut Yachts and Benetti, each serving different market segments. "The Group offers a huge range of motor yachts, with over 45 models in production, from 34 feet to 100 meter super yachts. In terms of global production units, there are five factories in Italy and one in Brazil. In Brazil, the production unit was installed in 2010. Currently, Azimut Yachts brand produces yachts between 40 to 100 feet (in Brazil) for the national and international markets," said Breviglieri.
Brazil has long been an attractive market for Azimut, which has an extensive list of high end clientele in the South American country. "Even long before installing a factory in Brazil, the Brazilian customer has always been very sensitive to branded products that carry the highest quality and Italian excellence. In addition, Brazil has great potential for the nautical market, with a coastline of almost 7,500 km in addition to over 40,000 km of inland waterways, coupled with a climate suitable for navigation during the 12 months of the year. We arrived in Brazil carrying extensive experience in the nautical world and also aiming to contribute to a developing sector," said Breviglieri.
Sales in Brazil have been historically significant to the Italian yacht builder, and there has also been an upward trend in sales during this decade. According to Mr. Breviglieri - "Since 2010, sales have grown by 5 to 10% per year. In terms of yacht type, it has been six consecutive years increasing the size of the yachts, models over 50 feet, produced here to fit the profile of our Latin American client who wants a model upgrade, as well as reaching a range of clients that did not feel the reflexes of the crisis. Increasing vessel size also demonstrates the significant development of our technical capacity in Brazil. The production of an 83 foot yacht, for example, which takes about four months to assemble, is four times as complex as a 40 foot boat."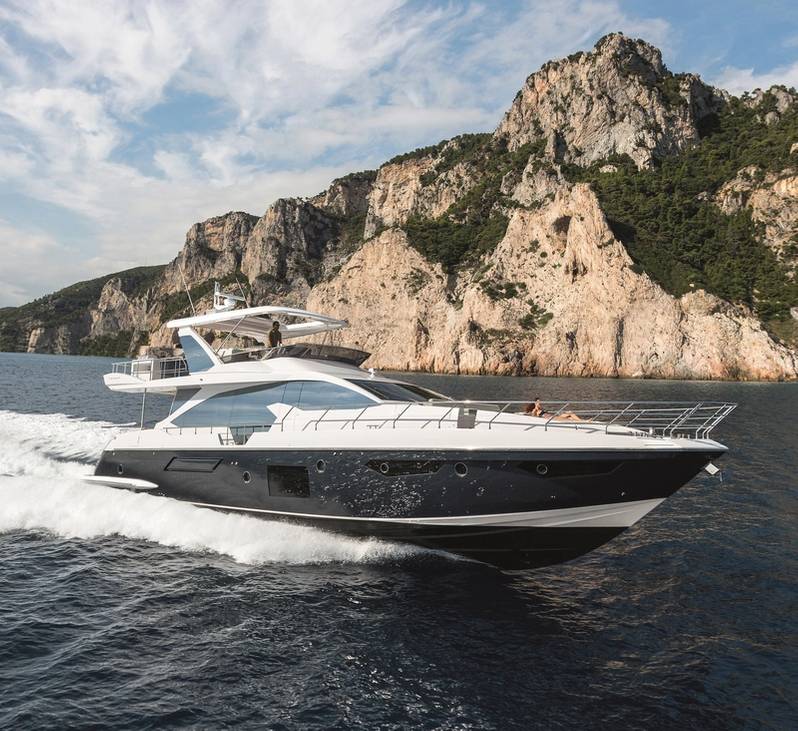 Azimut 74' motor yacht cruising at speed. Image courtesy of Azimut Yachts.
Azimut Yachts has maintained a pragmatic and proactive management policy since its inception in Brazil. Foreseeing and adapting to different economic scenarios and attracting new clients from the "nouveau riche". Breviglieri emphasized that -"Thanks to a strategic vision of planning and management, and together with the Italian headquarters, when we set up our production unit in Brazilian soil, we anticipated moments of crisis and economic fluctuations. This, combined with the undisputed quality of our products and worldwide brand recognition. In mid-2014, we started the export process, especially to other countries in South America and the United States. Moreover, in Brazil, we successfully bet on the sale of larger boats directed to a specific audience (Triple A) that did not feel the effects of the crisis. These factors contributed to maintaining our growth rates year on year."
The port city of Itajaí in the state of Santa Catarina in South Brazil is one of only a few boatyard hubs in Brazil "Santa Catarina was the state chosen for the largest concentration of suppliers, logistics, security, workforce training capacity, and tax incentives. It is still a challenge to find specialized labor because the boating industry is still young in Brazil.
However, there is potential, and for this, we constantly invest in training with Italian specialists so that we can increasingly professionalize our employees and follow exactly the same product standard developed in the global unit of the brand," said Breviglieri.
Azimut Yachts, currently employs around 400 highly specialized workers at its 20,000 sq. m. production unit. The design of the yachts is developed by world renowned professionals in the Italian headquarters and all models produced here follow the exact same standard of excellence and rigorous quality control of the Italian headquarters. Breviglieri pointed out that "In Brazil, the best selling models today are the largest ones, above 50 feet. In our range of products made in the country, we have the models of Azimut Yachts: Azimut Verve 40 (sport luxury marketed especially to the United States); Azimuth 50; Azimuth 56; Azimuth 62; Azimut 74; Azimut 83; Great Azimut 27 Metri (new); Large Azimut 30 Metri."
Azimut´s shipyard in Brazil is the most modern yacht production unit in Brazil, with direct links to their Italian headquarters and boasting state of the art boat construction equipment."We have launched trends in the world nautical market in terms of technology and design. As an example, one is 100% pure carbon fiber used in the superstructure of models such as Azimut 74a and Azimut Grande 27 Metri, which began to be manufactured in Brazil. This means more lightness, better navigability, volume scaling and stability. Reducing the boat's weight enables the brand to invest heavily in luxury details and finishes, including metals, stones, glass and wood. In terms of design I can exemplify with Azimut 62, an internationally awarded design revolution in the nautical world. Italian Achille Salvagni (one of the 100 best designers in the world according to AD Collector and included in the "A" list by Elle Decor USA) has managed to bring the whole atmosphere of a home into the boat with elegant furniture, curved lines and at the same time. versatile which makes it possible to create different environments and atmospheres," said Breviglieri.
On being asked what differentiates Azimut yachts from other nationally manufactured yachts, Breviglieri said "Azimut is a global brand and successful worldwide. We go beyond product excellence. There are 50 years of history and launch of world trends to the nautical market. Not only are we yacht makers, we are by our customers' side to lead them to an unforgettable experience. In addition to products, which bring innovative technologies, design and comfort items, we differentiate ourselves with services offered by providing full support to our customers directly from the factory." The CEO of Azimut Yachts in Brazil sees a bright future for the yacht market in Brazil and Latin America, and looks forward to continued company growth and new yacht designs."Brazil and other South American countries, due to the climate and waterways, have great nautical potential. Our vision for the coming years is one of growth. As a reference in the nautical market, our focus is to bring constant news to the public and increasingly encourage the sailing experience,"concluded Breviglieri.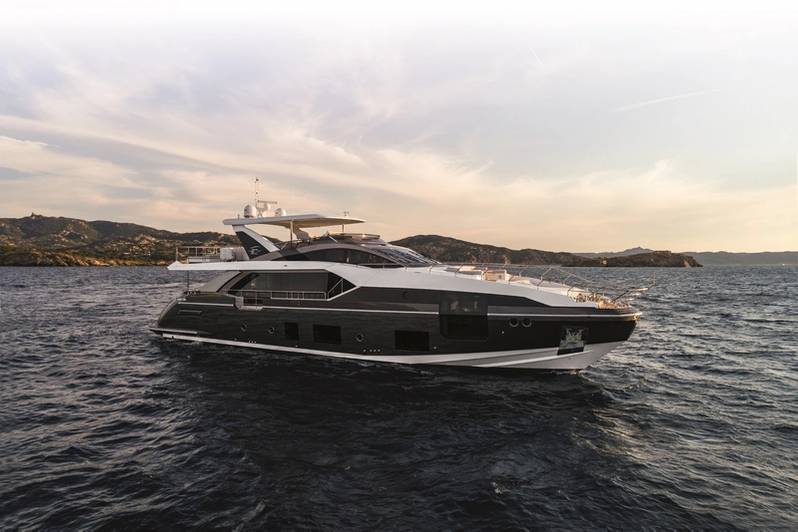 Azimut Great 27 Metri an 88.5-foot new super yacht that is also being built in Brazil. Image courtesy of_Azimut Yachts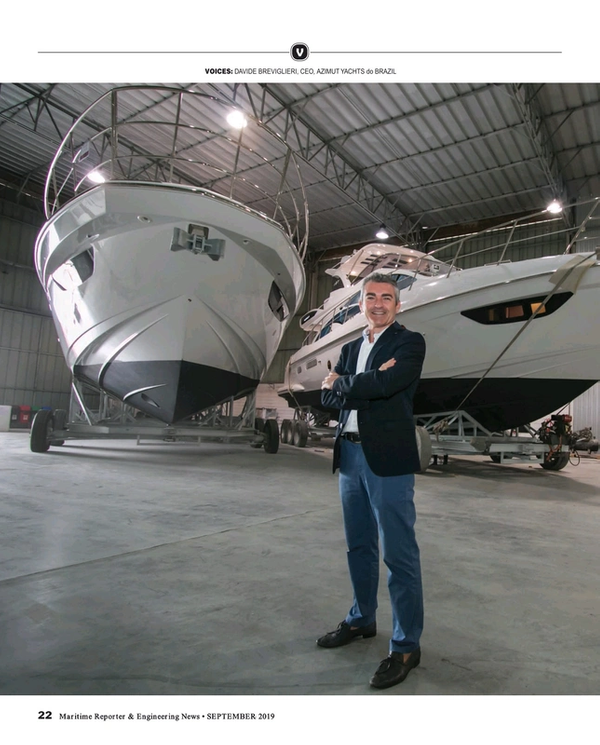 Read Interview: Davide Breviglieri, CEO of Azimut Yachts do Brasil in Pdf, Flash or Html5 edition of September 2019 Maritime Reporter
Other stories from September 2019 issue
Content