A Career Built on Cleaner Seas: Jochen Deerberg Retires
by Greg Trauthwein
"An honorable merchant departs"
While the term 'pioneer' is oftentimes loosely bandied about, there is no more accurate term to describe Jochen Deerberg, an environmental pioneer of the maritime industry, founder of Oldenburg, Germany-based Deerberg-Systems, who was recently feted by cruise industry luminaries at his farewell dinner late last year.
"To start in 1979 one could see that environmental-waste management problems on shore and especially in the maritime industry would be of great importance in the future," said Deerberg. "Of course, I was 10 years too early with my idea. But this edge gave me the pole position for further future inventions.
In reflecting on his long career and impressive record of firsts, Deerberg was succinct in his assessment of how the cruise industry has changed most dramatically during his tenure. "(In) 1979, the investment for waste management for a ship with 2,500 persons on board was 300,000 Euro installed. This was oily water separator and sewage treatment plant. Today for waste management (solid & liquid waste), it is 3 million Euro installed."
Since his early days Deerberg was aware of the significance of waste management on ships, which he developed and continuously improved over the past 35 years. In that time his company grew from a start-up in a small camper to a market leader. "Even setbacks let us emerge stronger. With a lean structure and our roots close to the heart we have always been working closely with our clients, with passion and dignity for continuous innovation," said Deerberg.
Ever diplomatic, Deerberg is remiss to name one particular ship his favorite, but he did note: "This is a difficult question. Deerberg is on 204 cruise ships and I cannot point out one. Eventually the Grand Princess of 1995 which was the ship where we delivered an integrated system solution for the first time."
At the end of 2015 Deerberg passed the key to the next generation. Deerberg-Systems is now part of Finland based Evac group, a global company with offices in over 40 countries that designs, manufactures and markets environmentally friendly water, waste and wastewater collection and treatment systems for the shipbuilding, offshore and construction industries. At the 30th traditional Deerberg Christmas party, a literal "Who's Who" of the maritime industry gathered at Oldenburg Castle.
Among the over 200 guests were the former CEO of Fincantieri Corado Antonini, shipyard owner Bernard Meyer, Costa CEO Michael Thamm, his predecessor Pier-Luigi Foschi, CLIA Europe-Head Dr. Raphael von Herman as well as friends, partners and colleagues of a long working life.
Jochen Deerberg, owner and managing director of Deerberg-Systems underlines in his farewell that today´s environmental consciousness, legislation, industries own initiatives and further developed technology induce the ship owners and shipyards to install a high standard, sustainable and flexible Waste Management System on board.
"A cruise ship will be operating for 30 to 40 years and must be totally flexible in handling the Waste Management Process onboard. Let's therefore always stay curious with the view ahead."
But even after leaving the executive role Jochen Deerberg will stay committed to the industry to support further development benefitting our environment with his expertise as visionary. He is also looking forward to spend more time with his family and his hobbies. And there will be more room for spending time in his Miami apartment. Always close to the industry he was so deeply involved with. When it comes to legacy, always humble Deerberg chose to quote others view of his work. Quoting Pierfrancesco Vago, Executive Chairman, MSC Crociere, from a letter datd 2/9/2015: "….With your pioneering vision, commitment and unshakeable determination, you took Deerberg-Systems up to the coveted position of market leader…." And quoting Michael Thamm, CEO Costa Crociere, from his Farewell Dinner on December 12, 2015 at Oldenburg Castle, " … He is one of the most remarkable and best known personalities of the cruise industry with an unmatched footprint set. An honorable merchant departs."
(As published in the February 2016 edition of Maritime Reporter & Engineering News - http://magazines.marinelink.com/Magazines/MaritimeReporter)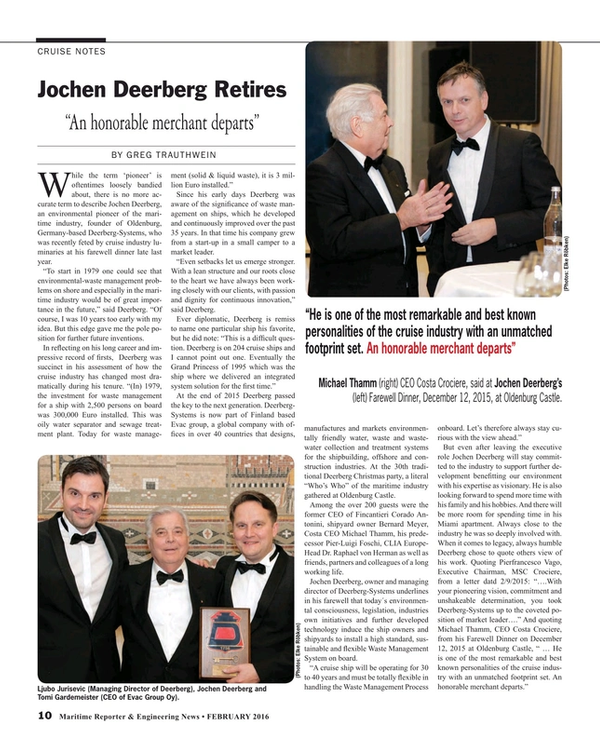 Read A Career Built on Cleaner Seas: Jochen Deerberg Retires in Pdf, Flash or Html5 edition of February 2016 Maritime Reporter
Other stories from February 2016 issue
Content