ZF Marine Propulsion Systems
By Greg Trauthwein, Editor
Making a strong thrust into the commercial workboat sector
ZF is a $20 billion, foundation-held industrial colossus with a strong reputation of providing engineered solutions in the diversity of fields that it serves. While the company reaps the majority of its sales in the automotive sector, it is making a concerted push through its Marine Propulsion Systems unit to expand its offering and presences in the commercial maritime business. Wolfgang Schmid, Head of Marine Propulsion Systems Regional North America and Central America, last month hosted MR in the company's gleaming North & Central American HQ to explain.

Wolfgang Schmid has for nearly two decades worked for ZF, with the first 10 spent on the company's automotive side, the last eight leading its North and Central American marine propulsion division. When he took over the division in 2005, business was booming, and while Schmid admits that he likes the cyclical nature of business, what he, the company and the world were set to experience went above and beyond normal cycles. "I like change, because change keeps us on our toes. But I like change in a manageable fashion. What happened in 2008/2009 was an avalanche."

The avalanche was the cumulative effects of the global economic collapse and lingering bad economy. With the lion's share of the ZF Marine Propulsion System business on the consumer side of the ledger, Schmid and his colleagues felt the effects deeply and immediately, as consumer spending dried up nearly overnight. "I've seen the ups and the downs in those eight years. We hit the heights in 2007 as many other industries did, and we saw the worst in 2009," Schmid said.

Prior to the global economic shock, ZF maintained a network of small service centers in North America, a network that would prove unsustainable in the new business environment. "We reacted immediately in the way we approached our aftermarket strategy," Schmid said. "(Today) we have 100 people in this company, and one-half is aftermarket related. Before, we had 13 small service centers, but as the volume dried up it was impossible to keep those open. We sat down and looked at our footprint, and reconfigured into a three branch strategy, maintaining our signature high level of service while reducing our cost structure tremendously."

So from adversity emerges success, as ZF Marine Propulsion Systems has emerged stronger on the flip side. Backed by a large company which holds technical excellence and global vision as core tenets, ZF Marine Propulsion System became more lean, opening its Miramar, FL HQ four years ago and establishing three additional U.S. hubs in Philadelphia, New Orleans and Seattle for service and spares. "During the boom days, you have to really stash away," Schmid said. "Yes we want to grow, but our philosophy is to not be foolish and make huge investments that can't be stopped when the tough times come. We always try to be ready for what the market throws at us"
So ZF today, a disciplined investor with a long-term outlook on the markets it serves, is targeting the commercial marine industry to power its growth.

Commerical Maritime Expansion
Previous to his eight years with the marine division, Schmid spent a decade on ZF's automotive side of the business, a business which cumulatively accounts for nearly three quarters of the company's annual intake. "The Marine business unit within ZF was always the most international and global thinking of all divisions, and that's really what attracted me to the position," Schmid said. "There are many differences (between auto and marine), starting with the way the business is handled; on the marine side it is more on a personal level. Here you're dealing with smaller businesses, and today it is still more of a 'handshake' business. There is a lot more trust still here that seems to have disappeared in automotive."

ZF's Marine business is a part of the Industrial Division of ZF, a division that includes marine, rail, aviation, off highway and special driveline transmissions, a division that garners approximately 11% of the company's annual sales.
But while marine is still a relatively small part of the big picture, Schmid, who had just returned from annual management meetings in Friedrichshafen, said that ZF's board of directors has laid a clear mandate to invest in and grow the commercial marine business starting now.

"We have focused more heavily on the commercial activity, backed by our acquisition of a thruster company, which signaled that we really want to become a major force in that market," Schmid said. In step, the company is in the process of expanding its product portfolio to the commercial marine sector, and Schmid was succinct in sizing up his company's approach. "At ZF, when we put our mind to it, we get it done. And the objective is clear: Become the dominant player in workboat transmissions for the foreseeable future."

Perhaps best known for its transmissions, ZF Marine Propulsion Systems offers a family of products to the maritime sector, including transmissions, pod drives, steerable azimuth thrusters, controls, propellers and surface drives and tunnel thrusters

Strength in Numbers
The breadth and depth of ZF global engineering and R&D is a strong card in ZF Marine Propulsion Systems' deck, and there are some early signs that the company is well positioned for a strong run at significantly increasing its commercial maritime business.

First and foremost, it is backed by a fiscally strong parent company that is not shy to invest heavily in R&D. "A significant percentage (5 to 6%) of our profits are plowed back into Research and Development, but last year that number was significantly higher," Schmid said. Being held by a foundation also has its advantages, as Schmid said the company is not beholden to shareholder whim and expectation on a quarterly basis, allowing it to take and maintain long-term strategies. Another advantage is the ZF organization itself, as the Marine Propulsion Systems division has access to a depth and breadth of industrial know how and R&D that is hard to match.

"Certainly our advanced technology is a strength, but let's keep it in perspective: we're talking about reversing transmissions, we're not talking about rockets that take us into outer space," Schmid said. "However in a gear, as simple as it might look, there is so much technology built in, in terms of material, in terms of manufacturing processes. To this day we are still optimizing a gear, the form and the function. We make them lighter, we make the stronger. We have the technical ability to deliver what the market wants, what the market needs. We have infrastructure to support our customers and operations globally."

But even the best made products eventually need service, repair or replacement, and Schmid stressed repeatedly the importance of serving the customer. "We consider ourselves a benchmark company in after sales service."
Crucial to this is the fact that ZF – for the most part – does not use third parties or dealers, making the company and its employees intimately and immediately aware of customer feedback, both positive and negative. In turn, it is then able to communicate with the factory in a direct manner to help identify and resolve potential problems. "I have a staff of naval architects and application engineers, so we're pretty self-sufficient and we can respond quickly. We are the manufacturer," Schmid said. "This makes it much easier to get feedback from the customers directly back to the factory."

Future Challenges
While the marine industry is as fluid and dynamic as any other, it has been a few steps behind in terms of consolidation and corporatization. But that is starting to change. "The marine market has been very dynamic for the last two years," Schmid said, "with a lot of consolidation in the marine propulsion sectors."

Specifically, the trend toward single source providers in the maritime propulsion market has been gaining steam for more than a decade, led by the diesel engine manufacturing majors such as Wärtisilä and more recently Caterpillar, resulting in fewer, larger players.

Through acquisition and teaming, there are fewer companies are taking on larger responsibilities onboard each commercial marine vessel. "If everybody is teaming, are we talking about more packages; is this what the shipyard wants? Is that what the vessel owner wants? It remains to be seen."

In evaluating pockets for potential growth, Schmid said his unit's strategy will mirror the corporate mantra, to be selective and thorough. "We see opportunities for expansion of the use of thrusters on the inland waterways," Schmid said. While the maritime sector in general, and the inland sector in particular, are slow to uptake new technologies, Schmid said that in today's environment where fuel prices are spiraling upward rapidly, the cost savings alone are compelling. "We have to really stress the benefits that a Z-Drive has to offer, particularly regarding the fuel savings. If we can show an operator that they can save 10 to 25%, that is huge."

Opposition to Z-Drives on the rivers traditionally has stemmed not from technical issues, rather the ever-shifting river bottom and sediment build-up that can punish anything below the hull line. In response, the company is continuing to stress the strategic advantages of ZDrives in the inland market, including the significant fuel cost savings, the ability to use a smaller motor to get the same performance as well as the advantages in maneuvering the vessel. In addition, it is vigilant to stock spare swing units in key locales to ensure that if an operator runs into a problem, ZF Marine Propulsion Systems will be there in a timely fashion to get the boat working again.
"If you're an operator, the savings can be staggering, to a point where the investment is nothing," Schmid said.

Another area of obvious expansion would be in the Offshore Oil & Gas market, particularly in and around the Gulf of Mexico. "We already have good activity in the offshore market down in the Gulf of Mexico with our transmissions, but I think we have room to grow on the control and propeller lines," said Schmid. While there are many strong opportunities ahead, Schmid said there are natural challenges to any business. "On the 30,000 ft. level, the challenge is how can we meet the demand of our board of management to grow our non-automotive business. We have found success in our customer partnerships. Listening to them and bringing to market products that help make them successful, through internal development or by strategic acquisition.
(As published in the September 2013 edition of Maritime Reporter & Engineering News - www.marinelink.com)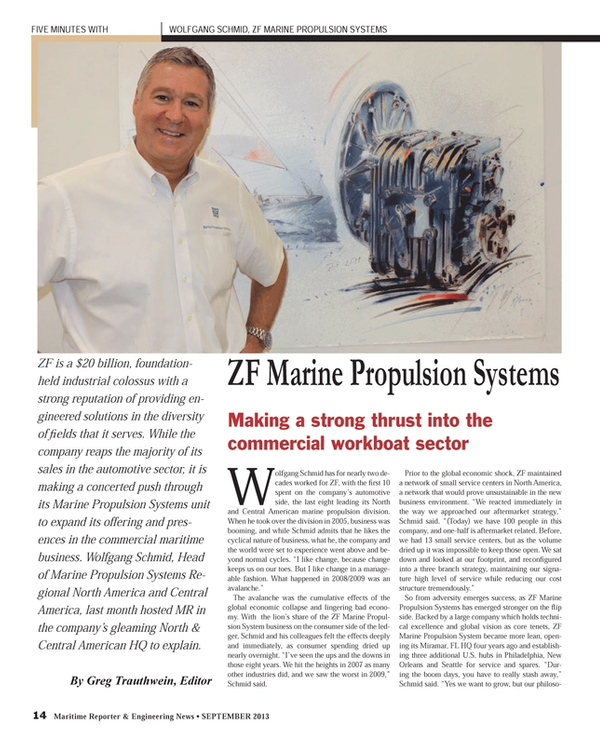 Read ZF Marine Propulsion Systems in Pdf, Flash or Html5 edition of September 2013 Maritime Reporter
Other stories from September 2013 issue
Content