Interview: MAN Diesel & Turbo Head of R&D, Søren H. Jensen,
By Peter Pospeich
Recognizing Opportunities and Mastering Challenges


More stringent emission regulations and increasing fuel prices require the development of environmentally compatible, fuel efficient ship propulsion. At the same time, there is a mild demand for new ships and engines. Against this background Maritime Reporter & Engineering News spoke with Søren Helmuth Jensen, Vice President of Research & Development, Low Speed Marine Engines at MAN Diesel & Turbo, discussing both the challenges and opportunities which he sees.

How do you describe your position as Vice President of Research & Development for the "big-bore" two-stroke engines of MAN Diesel&Turbo?

MAN Diesel & Turbo is a successful company, which is very active in attractive industries and markets. I see my responsibilities as to build up further on this basis, and together with my board colleagues and employees, prepare MAN Diesel & Turbo for future challenges. We will stay as a strong enterprise – with an innovative and market oriented solution portfolio in the shipping, energy and industrial segments. As such it is a concern to have a good mixture between these business segments as well as between newbuilds and service. Our long term target is clear: we will grow sustainable and profitable.
When we are talking specifically about the shipping business, we see the implementation of the tightened IMO-Tier III standards as a very important challenge for the next years – needless to say apart from overcoming of the weak economy, which has almost seized the whole industry. To be more efficient we internally organized our strategic business unit "Marine Systems" and pooled the maritime engine business of the two- and four-stroke engines, inclusive after sales service, under the management of Dr. Stephan Timmermann, member of the executive board.

What is MAN's present situation of the maritime engine business related to two- and four-stroke engines?

Our 2-stroke license business is the market leader. In the 4-stroke business we see a general market weakening; however here, particularly in the offshore-sector and other market niches we see lots of possibilities. Following from the market development towards the further optimization of large container ships propulsion efficiency, we recently added two significant units to our engine program. The new engines G95ME-C9.2 and S90ME-C10.2 rank among the largest and most powerful engines MAN has ever released to the shipping two-stroke market. In parallel to this we introduced lately the ME-GI engine. That our decision with the new engine was the right one can be seen by the immediate received orders and it confirmed the growing demand to have the option to run ships on Natural Gas as well as HFO in the face of increased fuel prices. Owing to market interest, we have now extended our dual-fuel engine program with an ME-LGI unit that can run on liquid fuels.

What effects have the current shipping crisis had on the turnover of the two business fields, and which kind of development can be seen due to the incoming orders?

Of course, also MAN Diesel & Turbo is influenced from the slowdown in the shipping sector – this is valid for the two business areas: two-stroke as well as four-stroke. Nevertheless our shipping business is, even in tough economic times, still a main pillar of our business and our results.

Based on this background, which influence do you see on your employee structure?

As mentioned before, we adapted strategically our global organization to be closer to our customers. And we are expanding continuously our PrimeServ Service Network with new service centers as we did recently with the newly opened presence in Halifax at Canada's east coast. The employee structure has been changed in this respect, as the portion of employees has been increased noticeably. Although with the current condition of the market we must be very careful concerning recruitment.

You mentioned the challenge because of the more stringent emission guidelines. In January 2011 Tier II came in force, with beginning of 2016 Tier III will be in force. Till than NOx has to be reduced in the ECA's by around 80%. Which radical answers and concepts has MAN Diesel & Turbo, respectively on which solutions do you work?

That is a big task and we must take action on many fields to answer this challenge; which only with internal engine measures cannot be solved. In the four-stroke sector today we fulfill the preconditions of IMO Tier III with a catalytic system, the Selectiv Catalytic Regeneration (SCR). Together with a diesel engine of the newest MAN generation the SCR-technology forms in future a complete system on board a ship. Furthermore, we made major steps forward with the exhaust gas recirculation technique on two-stroke engines. In general heavy fuel on board ships is used; this contains sulfur and releases during the combustion process NOx and SOx.
The legislation foresees that during the next 10 years such emissions must be reduced drastically. Our EGR-systems provide a high fuel flexibility, from heavy fuel towards distillates and gas; the NOX content is reduced by a partial recirculation of exhaust back into the scavenging air. This minimizes the oxygen content of the air in the combustion chamber which in turn reduces the combustion temperature and hence the NOx formation. Test at our "Diesel Research Center" here in Copenhagen have shown, that with the help of the EGR technique, the upcoming Tier III NOx limits are fulfilled. In the field of the big-bore engines we work as well on SCR solutions; together with one of our licensees we recently put the first IMO Tier III unit in operation.
In addition to this we feature a very remarkable portfolio of gas-engines. In the business unit Low Speed we introduced the ME-GI engine.
The ME-GI engine represents the culmination of many years' of work that began in the 1990s with the company's prototype MC-GI dual-fuel engine that entered service at a power plant in Chiba, near Tokyo, Japan in 1994. Depending on relative price and availability, as well as environmental considerations, the ME-GI engine gives shipowners and operators the option of using either HFO or gas – predominantly natural gas.
We see significant opportunities arising for gas-fueled tonnage as fuel prices rise and modern exhaust-emission limits tighten. Indeed, research indicates that the ME-GI engine delivers significant reductions in CO2, NOx and SOx emissions. Furthermore, the ME-GI engine has no methane slip and is therefore the most environmentally friendly technology available.
MAN Diesel & Turbo predicts a broad, potential market for its ME-GI engine.
As such, the ME-GI engine represents a highly efficient, flexible, propulsion-plant solution.
From the technical point of view I'm pretty sure that we at MAN Diesel & Turbo can solve the challenges. At the end of the day the question is open if our customers are able to invest in this, based on the new exhaust legislation, new technology, especially in consideration of the current weak world economical crisis.

About Søren H. Jensen
After graduating in 1990 from the Technical University of Denmark (DTU) as a Mechanical Engineer, Jensen started his professional career at MAN Diesel & Turbo in the R&D and Engineering Department. He held various positions in engine development and new design, 1992 – Research Engineer Vibration Analyses, 1998 – Research Engineer Engine Development, 2001 – Manager Engine Development, 2005 – Senior Manager New Design, before he was promoted in 2008 to Vice President of R&D, where he took over the responsibilities of R&D Marine Low Speed Engines. Jensen was member of the CIMAC Board from 2009-2011; since 2011 he is a member of the Advisory Board of the DTU Mechanical Engineering Department.

(As published in the September 2013 edition of Maritime Reporter & Engineering News - www.marinelink.com)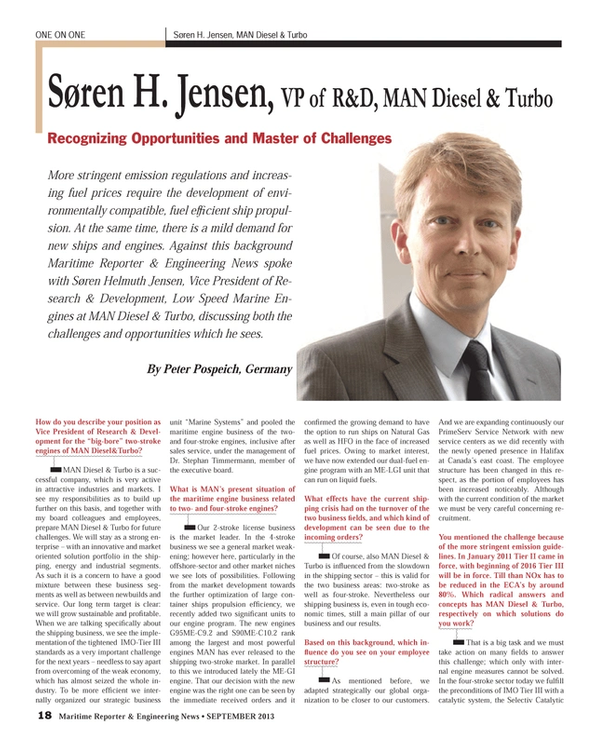 Read Interview: MAN Diesel & Turbo Head of R&D, Søren H. Jensen, in Pdf, Flash or Html5 edition of September 2013 Maritime Reporter
Other stories from September 2013 issue
Content