Retired Radm. Foley to Lead Gulfport Facility
Retired Rear Adm. John B. "Jay" Foley III, USN, one of the U.S. Navy's outstanding leaders during a 33-year career, has been named vice president of Northrop Grumman's shipbuilding operations in Gulfport, Miss.
Foley, who recently retired from the Navy as commander, Naval Surface Force, U.S. Atlantic Fleet, will bring his leadership and naval expertise to the Gulfport facility, effective Sept. 16, 2002.
"We are delighted to have Jay Foley joining our team," said Dr. Philip A.
Dur, Northrop Grumman corporate vice president and president of the company's Ship Systems sector. "His leadership, operational experience and intellectual reach will make him an important contributor to Northrop Grumman Ship Systems and our future programs.
Our Gulfport facility is set to reach new heights in our shipbuilding business plan as our 'center of excellence' for composite structures.
Through Jay's guidance, I have every confidence the facility will become a center of excel- lence for compos- ite ships." Dur noted that modern ship designs increasingly use composite materials in construction. Additionally, the Navy is interested in faster, lighter ships that may be built entirely of composite materials.
Foley will lead this transition to composites for future ships now being designed by Northrop Grumman Ship Systems, as well as shipbuilding programs that are now underway. These include Aegis destroyers, San Antonioclass LPDs, future large-deck amphibious ships, the DD(X) 21st century destroyer, and the U.S. Coast Guard's Deepwater program. The facility will also be a center for research and development of high-tech composites for naval ships.
"I am looking forward to this challenge and my operational experience will enable me to contribute to the continued growth of Northrop Grumman Ship Systems and their long tradition of quality products," Foley said.
The Gulfport facility covers 120 acres and is dedicated exclusively to module assembly and composites manufacturing.
The facility currently employs approximately 900 people who are engaged in ship unit fabrication for both Ingalls Operations in Pascagoula and Avondale Operations in New Orleans.
The facility is already recognized as one of the premier advanced composite manufacturing facilities in the nation.
Foley earned his commission in the Navy through the NROTC program at the College of the Holy Cross in Worcester, Mass. He also attended the National Security Program for Senior Executives at MIT.
He served as executive officer on the Ship Systems-built USS Callaghan (DDG 995) in San Diego, and has commanded USS Quapaw (ATF 110), USS Estocin (FFG 15), USS Monterey (CG 61), Cruiser-destroyer Group 8 and the USS Dwight D. Eisenhower Battle Group, where he completed a Mediterranean Sea/Arabian Gulf deployment in July 2000.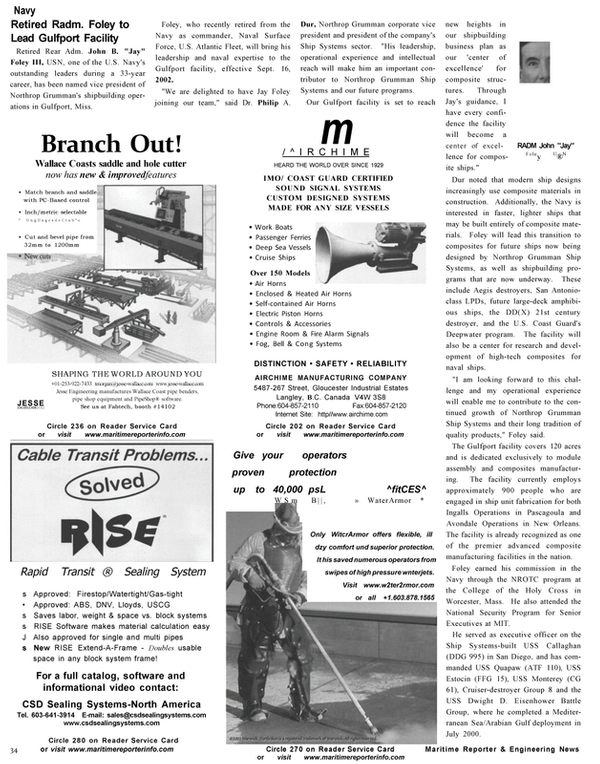 Read Retired Radm. Foley to Lead Gulfport Facility in Pdf, Flash or Html5 edition of October 2002 Maritime Reporter
Other stories from October 2002 issue
Content