SMM '94
The Shipbuilding Machinery & Marine Technology Exhibition & Conference (SMM '94) — scheduled for Sept. 27 to Oct. 1 in Hamburg—is a leading international show which will attract an estimated 32,000 vistitors from 49 countries.
The exhibits portion of SMM '94 — consisting of 750 exhibitors from 26 countries exhibiting within 48,000-sq.-m. arranged in 12 halls — includes representatives from the shipbuilding industry, shipyard installations and equipment, engines and propulsion systems, electrical engineering and electronics, pumps, compressors, fittings and auxiliary machinery, cargo handling and transport systems, and just about every other product sector imaginable.
Included among the countries which will have "official national participation" are: Canada, the Czech Republic, Denmark, Finland, France, Hungary, Italy, Japan, The Netherlands, Norway, Poland, Russia, South Korea, Spain, Sweden, the U.K. and the U.S.
Held every two years, SMM is regarded as a leading international exhibition of shipbuilding and shipbuilding technology.
Hallmarks of each show are new trends and developments in the shipbuilding industry, presented by industry leaders to a specialized international audience.
The following is the schedule for speakers at the SMM '94 conference, SEA 2000.
SEA 2000 — The Conference The SMM '94 conference — SEA 2000 — is comprised of a list of speakers who will discuss analyses of logistic concepts and market developments in specific geographical regions. The conference will present transport technology and future ship design concepts in coastal trade and optimization of interface between port facilities and ships cargo handling equipment. The following is SEA 2000's most updated schedule.
Wednesday, September 28 9 a.m. Welcome — Prof. Dipl.-Ing. Fritz Sandmann, Conoc, Hamburg Opening Address — Prof. Dr. Erhard Rittershaus, Mayor, Hamburg Tadao Yamaoka, chairman, Japanese Marine Equipment Assoc.
9:25 a.m. "Short Sea Shipping" — Dr.Wim A.G. Blonk, director, shipping & ports, directorate VII Transportation, CEC Brussels 9:45 a.m. "Future European Short Sea Shipping Seen from an Active Shipowner's Point of View" —Gunnar Jacobsen, president, Jebsen Wilson Eurocarriers Norway 10:05 a.m. "Interface Port in Intermodal Transportation" — Dipl.-Ing. P. Dietrich, chairman, the Federal Assoc. of German Seaport Operators 10:25 a.m. "The Shipbuilding Industry's Role in the Modal Shift" — Carlos M. de Albornoz, chairman of AWES SESSION 1: Short Sea Shipping — Logistics 11:15 a.m. "Logistics Concepts & Market Development in the European Coastal Trade" — Prof. Dr.
M. Zachcial, Institut fur Seeverkehrswirtschaft und Logistik, Bremen 11:35 a.m. "JapaneseLogistics in Coastal Trade" — Prof.
Takehiko Sugijama, Hitosubashi Univ.
11:55 a.m. "Intermodal Combined Passenger & Cargo Transportation" — M. Sc. (Nav. Arch.) Markku Kanerva, Delta Marine, Finland 12:15 p.m. "Electronic Data Interchange for Multimodal Transportation" Dipl.-Ing. J. Koock, AEG Automatisierrungstechnik, Frankfurt SESSION 2: Short Sea Shipping — Techniques 2:00 p.m. "The Japanese Proposal — The Techno-Superliner" — Dr.Kazuo Sugai, Assoc. ofTechno- Superliner, Tokyo 2:25 p.m. "The German Proposal — Fast Monohulls & Large SES for Specific Applications" Heinz Topel, Blohm + Voss, Hamburg 2:50 p.m. "The Italian Proposal — Future Ship Design Concepts for World Trade" Dir.-Ing. G.
Arena, Fincantieri, Italy 3:15 p.m. "The Scandinavian Proposal — Ship Design & Cargo Handling for Short Sea Shipping" Kai Levander, Kvaerner Masa- Yards 3:40 p.m. "The Spanish Proposal — New RoRo Ship Design for Faster Port Turnaround in Unitized Short-Sea Trades" Juan Calvo, AESA, Madrid 5 p.m. Presentation of the results of universities' competition on Futuristic Ship Concepts Thursday, September 29 From Sea Chart to a Hydrographical Information System — Data Processing, Evaluation and Presentation 9 a.m. Welcome — Dr.-Ing. Heinz Giszas, Strom und Hafenbau, Hamburg. Chairman: Horst Hecht, Bundesamt fur Seeschiffahrt und Hydrographie, Hamburg 9:30 a.m. "Hydrographie & Geographic Information Systems for Ships - Requirements and Development Trends" — Dipl. Ing.
Hubertus Wentzell, Atlas Elektronik, Bremen 10 a.m. "Geographical Data Bank as Central Unit for a Hydrographical Information System" — Dr. Matthaus Schilcher, Siemens Nixdorf, Munchen 11 a.m. "Data Acquisition & Evaluation Procedures for a Hydrographical Information System" — Dipl.-Ing. H. Jorg Geerke, Hamburg Port Consult, Hamburg 11:30 a.m. "Main Marine Information Sources, Relevant for Planning" — Prof. Peter Andree, Polytechnic, Hamburg 12:00 noon "Ships for Special Survey of Waterways" — Dipl.-Ing.
Siebeneicher, Wasser-und Schiffahrtsdirektion Nord, Hamburg 1:30 p.m. "HYDROCAD - A Hydrographical Information System for the Port of Hamburg" — Dipl. -Ing. Dieter Seefeldt & Dipl.- Ing. Kai Wessel, Amt fur Strom - und Hafenbau, Hamburg 2 p.m. "Hydrographical Survey in Finnish Skerries" — J.
Nuoteva, Hydrographical Service, Finland 3 p.m. "Hydrographie Survey for Harbor Maintenance & Support Shipping" — A.C. Noordijk, Port of Rotterdam-Hydrographic Dept.
3:30 p.m. "Electronic Sea Chart (ECDIS) — A Realtime Navigation & Information System" — Dipl.-Ing. Horst Hecht, Leitender Regierungsdirektor, Bundesamt fur Seeschiffahrt und Hydrographie, Hamburg For additional information on SMM '94, contact: tel: +4940 35690; fax: +4940 3569 2180.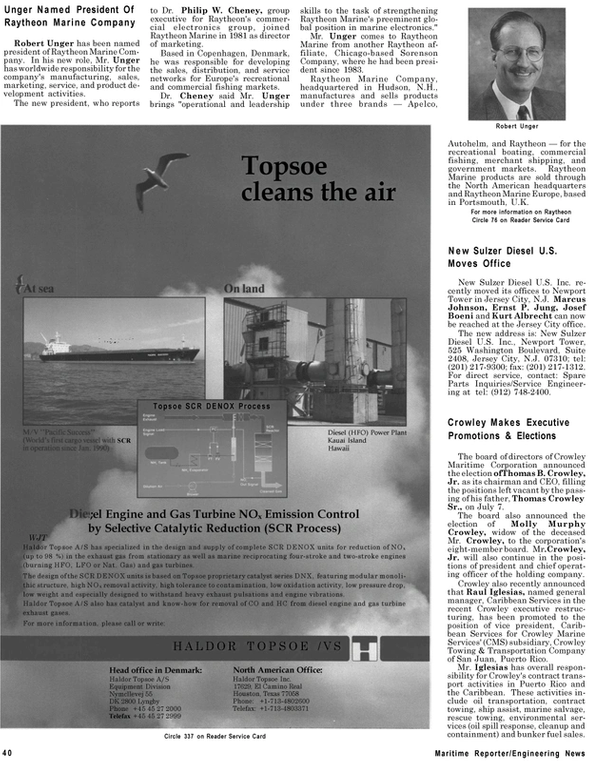 Read SMM '94 in Pdf, Flash or Html5 edition of September 1994 Maritime Reporter
Other stories from September 1994 issue
Content