OTC PREVIEW Offshore Industry's Largest Show Slated For May 4-7 In Houston
Recognized the last 23 years as the world's preeminent international offshore industry event, the Offshore Technology Conference (OTC) will focus on the critical issues of economics and the environment affecting the international petroleum industry. The 24th Annual OTC will be held at the Houston Astrodomain Complex, Astrohall, in Houston, Texas, from May 4 to 7, 1992.
As the offshore industry moves into harsher and more environmentally sensitive areas, demands increase for higher levels of operating efficiency. The offshore industry will have to meet these challenges by utilizing cutting-edge technology.
OTC has long-been a leading worldwide forum for the exchange of technical information vital for exploration and development of ocean resources and protection of the offshore environment.
"Excellence in day-to-day operations has always been an industry goal," said Dennis E. Gregg of Conoco Inc., 1992 chairman of the OTC board of directors. "Yet, its need is more pressing today than ever before. In today's world of roller coaster economics, it is financially imperative that the offshore industry pay careful attention to efficiency.
Now, and in the future, energy companies will prosper only if technology challenges are met. OTC has a significant role to play in helping the offshore industry meet those challenges." Attendance for the show is expected to exceed 30,000, as it did last year when 34,272 registrants, primarily consisting of offshore industry engineers, managers and scientists, pushed the show's 23-year attendance mark to over 1 million.
Last year's attendance was its highest since 1985.
Over 1,300 of the world's foremost manufacturers and suppliers of offshore equipment and services will display at the OTC exhibition.
The display space is expected to cover an area of at least 237,020 net square feet, with exhibits showcasing such products and services as shipbuilding, boatbuilding and rig fabrication, cranes and deck machinery, gaging and monitoring systems, diesel propulsion and auxiliary systems, offshore engineering and design, and navigation and communications equipment.
"Although much of the current offshore activity is taking place in the North Sea, most of the engineering, design and purchasing decisions that impact our products are made in Houston," stated a marketing representative with a Finnish shipbuilder.
As at past shows, many exhibitors are expected to tout new products and services—or modifications to existing ones—designed specifically to further improve the safety and environmental aspects of offshore operations.
In combination with the huge exhibition, OTC events of major interest will include a series of keynote and special sessions, as well as six topical luncheons. Additionally, the event's technical program will encompass about 250 presentations by authors from 20 companies.
Among the topics covered by the technical presentations will be subsea production systems, tensionleg platform technology, flexible pipe technology, geophysical engineering and exploration, engineering materials, offshore vessel operations, oceanography, and meteorology, as well as environmental quality and safety during drilling and production operations.
One keynote session will focus on worldwide ultra-deepwater drilling and production prospects, with another session including discussion and debate about the future development of the Arctic National Wildlife Reserve.
The focus of the two OTC general sessions will be how the logistics of offshore exploration and production affect and are affected by the environment.
The sessions will focus on gaining access to publicly owned offshore lands and developing the oil and gas reserves beneath them economically and more efficiently.
Monday's afternoon general session will focus on "Affordable Offshore Development," with participation by Stephen M. Cassiani, executive vice president of Exxon Exploration Co.; Edward A. Blair, president of Hamilton Bros. Oil Co.; J. Michael Stinson, chairman/ managing director of Conoco U.K.
Ltd.; and Hans Meijer, director of exploration and production for Norske Shell A/S.
Tuesday's afternoon general session will address "Access to Public Lands and Waters." Among the panelists will be Scot Sewell, director of the U.S. Minerals Management Service, as well as a senior oil company executive and representatives of major environmental organizations.
Six topical luncheons on Monday, May 4, and Wednesday, May 6, will accompany the conference program.
The topics at Monday's luncheon will be "The Hibernia Project," chaired by R.D. Owen, project general manager of Hibernia Management & Development Co. Ltd.; "Soviet Joint Ventures," chaired by Charles Bare, manager, headquarters operations-Russia for Conoco Inc.; and "Well Control in Kuwait," chaired by Larry Flak, chief engineer for O'Brien-Goins-Simpson & Associates and OGE Drilling.
On Wednesday, May 6, the topical luncheons will feature: George A. Helland, Deputy Assistant Secretary for Export Assistance for the U.S. Department of Energy, on the topic, "Effect of EC on U.S. Oil Exports and U.S. Trade"; J. Neerhout Jr., executive vice president and director of Bechtel, on the "Channel Tunnel Project," or more commonly known as The Chunnel; and Neil Frank, meteorologist for KHOUP TV Houston, on "Hurricanes." "The industry's increased interest in helping developing nations take advantage of their offshore resources calls for absolute commitment by industry to ensure that commercial development does not interfere with everyone's desire to keep water and air quality at their highest levels," said Mr. Gregg.
"We believe our 1992 technical program reflects that desire.
"But while environmental and operational safety are key points in the technical program, the need for more precise, less expensive drilling and production equipment and services is being stressed as well," he continued.
"This year's program features the most up-to-date equipment and practices to be developed for offshore drilling, completion, and production," he said. "From horizontal and extended-reach drilling to reeled tubing development and from new cementing processes to subsea production equipment, the 'nuts and bolts' aspects also are well covered in this year's program," he added.
OTC is sponsored by 11 prominent engineering and scientific organizations with worldwide membership of more than 700,000, and is managed by the Society of Petroleum Engineers for the sponsoring organizations.
For details on the exhibition and the technical conference, contact: OTC Headquarters, P.O. Box 833868, Richardson, Texas 75083- 3868; or telephone: (214) 669-0072.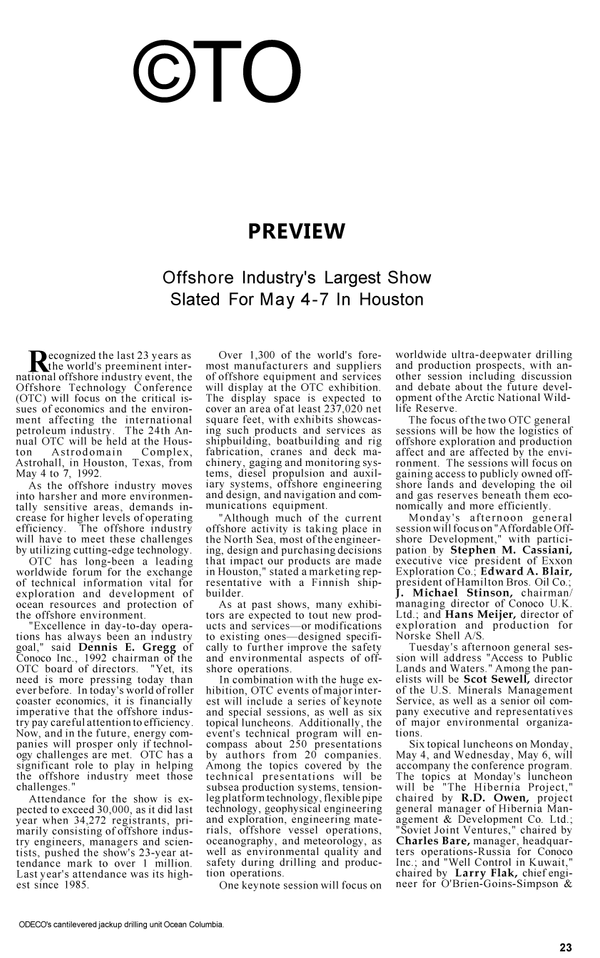 Read OTC PREVIEW Offshore Industry's Largest Show Slated For May 4-7 In Houston in Pdf, Flash or Html5 edition of April 1992 Maritime Reporter
Other stories from April 1992 issue
Content