New Propeller Boss Cap Fins Provide Significant Improvement In Efficiency
result of concentrated research effort for the past two years, Propeller Boss Cap Fins (PBCF) are said to show significant economic features for all vessels.
To date, research for improving propeller efficiency due to vortexes in the slipstream of the propeller has concentrated on the loss of efficiency due to the propeller tip vortex.
There have been many designs and devices tested for reducing this effect.
Until recently, very little research has concentrated on the efficiency loss due to the propeller hub or boss.
Theoretical calculations for propeller performance which includes the influence of the hub have only recently become possible.
The result of joint research efforts by Mitsui OSK Lines Ltd., West Japan Fluid Engineering Laboratory Co. Ltd., and Mikado Propeller Co. Ltd. since September 1986, PBCF is designed to decrease the induced resistance due to the vortexes generated by the boss cap.
PBCF is a simple device, having the same number of fins attached to the boss cap as that of the ship's propeller. The fins serve to control the flow over the propeller hub, thus diffusing the vortexes created by the hub. This effect is seen clearly in the two photographs of the model tests, included with this article. Pro- peller open water model tests have shown gains in efficiency of 3 percent to 7 percent and resistance/ self-propulsion tests conducted on a 6-meter model indicated gains of 2 percent to 5 percent. A graphical summary of the model tests are shown in Fig. 1.
Speed trials conducted in September 1987 for the Mercury Ace, a 44,979-grt car carrier of Mitsui OSK Lines Ltd., fitted with PBCF, demonstrated a real ship efficiency improvement of 4 percent. Trials were conducted simultaneously with a like sister ship without PBCF. Fig.
2 shows the graphical results of these trials.
On-ship trials have also shown that installation of PBCF has no effect on maneuverability.
As PBCF controls the flow behind the propeller—it has little dependence on the hull form like other energy-saving devices. As a result, PBCF is effective on ships of any type. PCBF is said to be especially effective for high-speed ships with a high propeller pitch ratio.
Smaller and lighter than conventional energy-saving devices set around the propeller, PBCF can also be manufactured at low cost.
The investment can be recovered in as little as one year.
An important feature is that installation of PBCF can be performed in a very short period of time for a new ship under construction or a ship in operation. Installation simply requires the removal and replacement of the propeller boss cap with PBCF. With a ship in drydock, this can be accomplished in only four to five hours. The added weight also has an insignificant effect on shaft alignment and bearing loads.
Since January of this year, PBCF has been fitted on over 23 ships of several types. All are said to have experienced significant increases in propulsion efficiency ranging from 3.2 percent to 6.7 percent. The average increase in efficiency has been 4.2 percent For more information and a copy of the technical paper on the development of PBCF, Circle 8 on Reader Service Card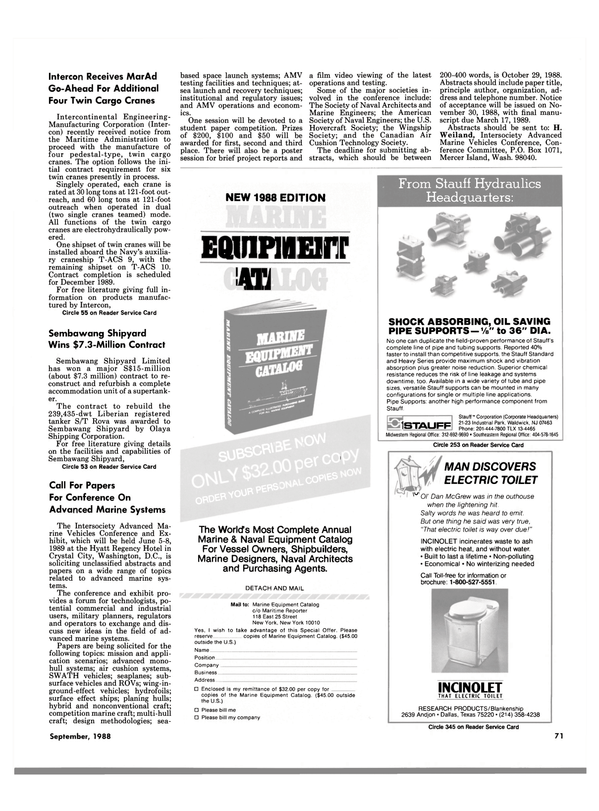 Read New Propeller Boss Cap Fins Provide Significant Improvement In Efficiency in Pdf, Flash or Html5 edition of September 1988 Maritime Reporter
Other stories from September 1988 issue
Content