Future Business Opportunities In Navy Ship Procurement, Ship Maintenance And Navy Technology Development
By Dr. James R. McCaul, President International Maritime Associates, Inc.
International Maritime Associates, Inc. (IMA) prepares detailed business reports covering the U.S.
Navy market. They deal with future business opportunities available to shipyards, manufacturers, engineering firms and other marine suppliers.
This article is based on information contained in recent reports.
Overview The U.S. Navy is the major generator of work for shipyards and marine equipment manufacturers in this country. Total spending on new ship procurement has averaged $10.8 billion per year over the past 10 years. This includes spending for ships systems and weapons, as well as the ship. Spending on ship maintenance and modernization has averaged $4.7 billion per year this period. Spending on new naval technology development has averaged $7.6 billion. Details are shown in Exhibit 1.
Ship Procurement As of early March, 90 naval ships were on order in 17 shipyards. Major players include Newport News (aircraft carriers and attack submarines), General Dynamics-Electric Boat (Trident and attack submarines), Ingalls (Aegis combatants and LHDs), Bath Iron Works (Aegis combatants) and Avondale (fleet oilers and LSDs). These and other shipyards currently building naval ships are shown in Exhibit 2.
The Navy plans to spend more than $25 billion on ship construction over the next two years. This year's budget is $16.2 billion—a major portion of which is represented by funding for two new aircraft carriers, three attack submarines, one Trident submarine and five Aegis cruisers. The FY 1989 budget request is $9.1 billion. Details for ship construction planned over the next five years are shown in Exhibit 3.
Continuing coverage of this area is provided in IMA's quarterly busi- ness report U.S. Navy Ship and Equipment Procurement.
Ship Maintenance During FY 1987, 45 commercial shipyards received contracts for Navy ship repair and maintenance.
Ship repair work was also performed in the eight naval shipyards and three Navy-owned ship repair facilities. Details for ship repair contracts in progress in commercial yards as early March 1988 are shown in Exhibit 4.
Spending for ship maintenance and modernization is projected to exceed $9.4 billion over the next two years. This year the Navy plans to spend $4.7 billion to perform 27 overhauls and 151 short term availabilities (SRA's/PMA's). In FY 1989 projected spending is $4.8 billion— to perform 23 overhauls and 158 short term availabilities. Budget details are shown in Exhibit 5.
Continuing coverage of this area is provided in IMA's quarterly business report U.S. Navy Ship Maintenance and Modernization.
New Naval Technology —$9.5-Million Annual Market For Marine Suppliers Hundreds of companies are involved in Navy-sponsored research and development. Many companies have used the Navy R&D program to establish early position for major future procurements. Current work encompasses virtually the entire spectrum of new technology—from advanced composites and supercomputers to new propeller designs and electric drive propulsion systems.
In FY 1988 spending for Navy technology development will exceed $9.5 billion. Next year the technology development budget is projected to be $9.2 billion.
Shown in Exhibit 6 are some of the major technology development programs planned in FY 1988 and 1989. These and more than 200 other technology development programs are detailed in IMA's new report The New Naval Technology Program—A Detailed Guide to $9.5 Billion in New Annual Sales for Manufacturers, Engineering Firms and Suppliers.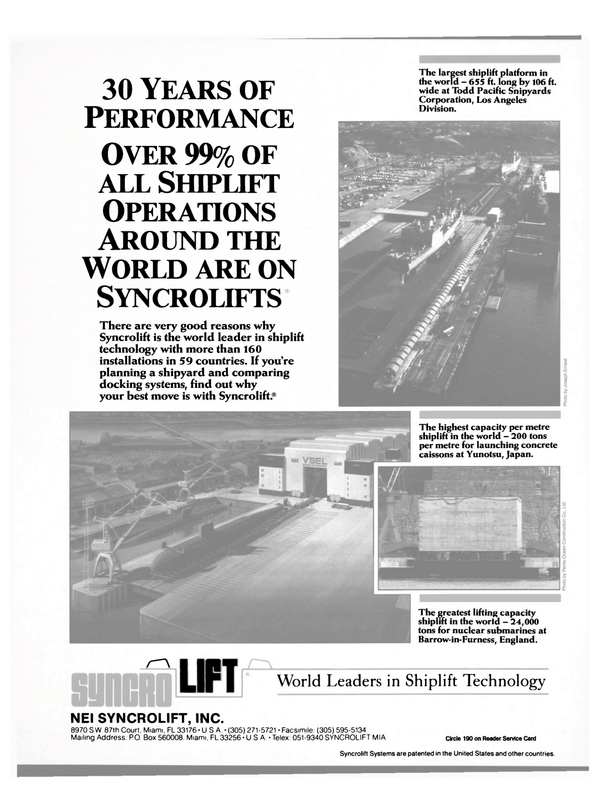 Read Future Business Opportunities In Navy Ship Procurement, Ship Maintenance And Navy Technology Development in Pdf, Flash or Html5 edition of May 1988 Maritime Reporter
Other stories from May 1988 issue
Content