C a t e r p i l l a r Announces N e w M a r i n e Diesel Propulsion System Support Programs
C a t e r p i l l a r M a r i n e Support Programs Help Lower O p e r a t i n g Costs Engine parts and service support for Caterpillar Marine Systems is available through a network of more than 300 marine-oriented dealer locations servicing more than 1,000 ports worldwide.
With Caterpillar-controlled design, build, and test for the complete marine engine, transmission or generator, single source service and warranty for the entire system is available. According to Mike Rose, Caterpillar Engine Division Marine national accounts manager, "Cat wants to be your partner in lowering the cost of doing business.
Our goal is to help operators obtain more profits by improving marine system availability and lowering operating costs. Cat product support programs are designed to help operators manage their businesses." Once the marine system is installed, competitively priced, genuine replacement parts and quality service are available dockside or underway as needed. Cat service personnel use both the latest diagnostic tooling and repair techniques to quickly get you back underway.
Maintenance management programs are available which let you project what your costs will be. For owners wanting to perform their own maintenance, convenient repair kits are available. Numerous repair options, exchange parts, remanufactured parts priced at 10 to 60 percent of new but with same-as-new warranty are available. Plus, a parts availability guarantee program covers the engine, transmission, generator and selected Twin Disc transmissions.
About 98 percent of the parts ordered can be filled immediately over the counter. If you must wait more than 48 hours for the necessary repair part, the part is free.
Make Sure You Get and Retain the Value Purchased The Caterpillar Marine Performance Analysis Report (Marine PAR) is an in-vessel test procedure that uses the latest diagnostic equipment.
The test examines both individual components and the interface of engine, transmission, prop, keel cooler, air and lubrication systems.
Offered exclusively by Cateroillar Marine Dealers, the test determines if systems and components are properly matched for optimum life, fuel economy and performance.
Operators are given a computer printout and analysis of vessel performance, propeller and marine transmission match to the engine, and compatability or mismatch readout of specific engine systems.
In addition, Marine PAR will help detect damaged propellers and rudders as well as cooling system deterioration and fouled hulls.
Caterpillar advises the test be ap- plied during sea trial and then later used as a benchmark for problem diagnosis. The cost of Marine PAR will generally be a flat rate price ranging from $300-$400 per engine.
A new Marine PAR tool, computer- aided Marine PAR (CAMPAR) has been developed for use by certified Caterpillar Marine PAR dealers.
This tool assures the owner of consistent test result interpretation which can be relied upon to make cost-effective repair decisions.
Investment Analysis A new tool to help analyze operating costs, Engine Investment Analysis (EIA), will help owners plan and budget resources. Available only through Cat dealers, EIA analyzes cost of engine ownership, expense, revenue, and profitability. The computer analysis will help owners evaluate the feasibility of repowering by accounting for important variables such as fuel efficiency, performance, and repair costs. Owners can compare their current cost of operation will potential savings of new invest- ment options.
MEPS Marine Engine Parts and Service (MEPS) outlets will be expanded in 1986, providing more North American points of contact for product support services. The expanded authorized service network means faster, better service to marine operators.
Taking a Hard Look at Costs Mr. Rose suggested that there is a dramatic increase in the need for product support. As engines are being used longer, as fuel quality deteriorates, or as engines are laid up for extended periods due to ship inactivity, owners need to reassess direction and modify strategy to adopt to the changing maintenance requirements.
New engine technology and support programs can help operators avoid unnecessary costs. "Fuel, oil, repair and maintenance costs can be controlled by using the available product support programs.
While fuel and lubricants can account for almost 90 percent of vessel operating costs, the cost of downtime at the wrong time can destroy profits," he stated. "Survivors in this industry will plan their success . . . by knowing current operating costs and weighing each repair option as it relates to cash flow, age of equipment, fuel cost, anticipated repair and maintenance costs. The balance sheet will quickly determine when its time to change the method of operation. Caterpillar product support capabilities are unrivaled and are in place to help owners do just that." For further information, and complete literature on Cat support programs, plus a free copy of a new North American Marine Service Directory (for Caterpillar engine owners), C i r c l e 4 7 on Reader Service Card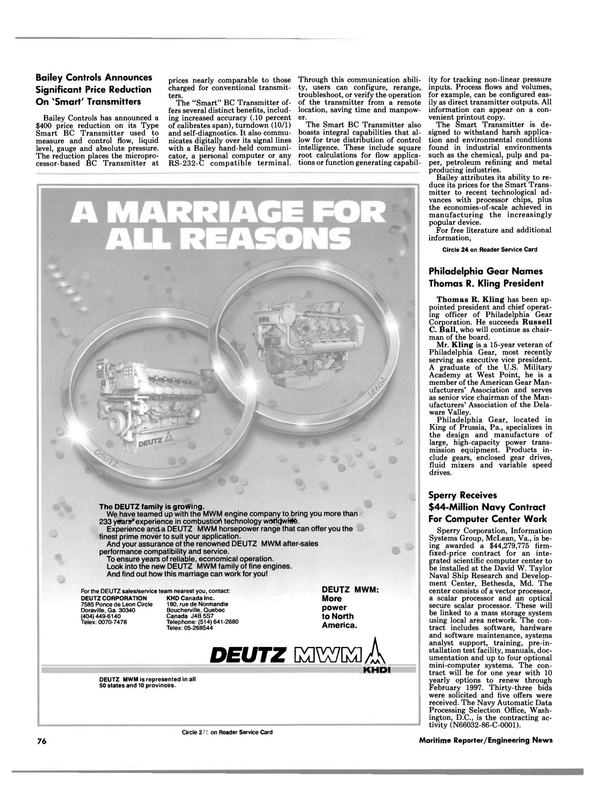 Read C a t e r p i l l a r Announces N e w M a r i n e Diesel Propulsion System Support Programs in Pdf, Flash or Html5 edition of April 1986 Maritime Reporter
Other stories from April 1986 issue
Content