Navy Repair And Overhaul Market
James R. McCaul, President International Maritime Associates, Inc.
The Navy has clearly become the dominant source of ship repair, as well as new ship construction in the United' States. Ten years ago Navy business accounted for 36 percent of ship repair employment and 58 percent of new ship construction employment in U.S. shipyards. The figures are now 78 percent and 87 percent, respectively (see Exhibit 1).
In June 1983, IMA published a report on the Navy new construction market. A second report, on the Navy repair and overhaul market, is now being prepared.
Some information to be presented is highlighted in this article.
Future Business Opportunities The Navy has asked Congress for $2.8 billion in FY 1985 to fund 56 scheduled Navy ship overhauls.
This compares to $2.4 billion for 54 overhauls in FY 1984, and $2.5 billion for 59 overhauls in FY 1983.
Past policy has been to assign about 35 percent of this work to private shipyards. The remaining 65 percent of the work, especially overhaul of complex combatants, is performed in one of eight Navyowned shipyards.
Exhibits 2 and 3 list the scheduled overhauls of Navy and MSC ships over the next 12—24 months.
Forty-nine Navy and 28 MSC ship overhauls are scheduled. These jobs are to be awarded to commercial shipyards.
There are constraints on the competition: • Some have already been awarded as part of a multiship contract.
• To maintain crew morale, Navy's policy is to restrict competition on about one-third of overhauls to homeport shipyards. This policy doesn't affect MSC ships. But the ship relocation cost effectively limits Atlantic/Gulf shipyards to competing for Atlantic fleet MSC ships, and West Coast yards compete for Pacific fleet ships.
• NAVSEA and MSC are required to reserve some overhauls to competition among shipyards qualifying as small business firms. This particularly affects MSC overhauls as almost all are reserved for small businesses.
Equipment Sales Each overhaul requires replacement or addition of equipment. An example of the equipment variety and planned expenditure is provided in Exhibit 4. This shows equipment required for scheduled alterations planned for USS Simon Lake, a 20-year-old submarine tender.
Most long lead time equipment is directly purchased by Navy and provided to the shipyard as Government Furnished Equipment (GFE). More common equipment (e.g., refrigerators, hydraulic bench press, etc.) are typically included in the specification as items to be purchased by the shipyard as Contractor Supplied Equipment (CFE).
Our survey indicated a large percentage of mechanical, electrical and outfit equipment is purchased by the shipyard. Electronics equipment is purchased about evenly by Navy and contractor. Ordnance equipment is mostly purchased by Navy.
About 30-40 percent of the cost of a typical combatant overhaul will be subcontracted by the shipyard for material purchase. A large integrated yard le.g., Bath, Ingalls) will subcontract 2-5 percent for outside labor. Smaller yards may subcontract out 50 percent for specialized services.
Profitability of Navy Overhaul We asked master ship repair contractors about the profits in Navy overhaul work. Of 22 responses: • 9 respondents said Navy overhauls were less profitable than commercial repairs • 11 thought the Navy and commercial repair business had comparable profits • 2 said Navy was more profitable than commercial work Of the 49 Navy ship overhauls scheduled for the private sector over the next two years: • 31 will be fixed-price contracts • 14 will be cost-plus-award-fee contract • 4 will be cost-plus-fixed-fee contracts Fixed-price contracts squeeze profits from bidders in an industry hungry for work. U.S. ship repair yards are increasingly hungry for work! It is highly probable that Navy overhaul will be a low profit business over the next few years.
Technical Competitive Factors We asked master ship repair contractors to rank technical factors which affect award of Navy overhaul contracts. Exhibit 5 shows the response of 22 shipyards.
A peculiar pattern appears in these responses. Atlantic yards give high ranking to quality assurance, management experience in Navy work, in-place management, and previous performance on Navy contracts. Important factors to Pacific yards are political support in Congress, combat systems capability and drydocking capability.
Problems in Navy Overhaul Shipyards were also asked to rank problems in performing Navy overhaul work. Exhibit 6 shows the response.
All yards felt unrealistic bid pricing is the greatest problem.
Many said competition is cutthroat.
This reflects the state of shipyard business and reliance on a small number of big jobs from one customer.
Pacific coast yards seem to have particular problems receiving GFM/ GFI, but less difficulty getting decisions from the Navy.
Yard Improvements Planned We asked what type improvements each yard plans in overhaul and repair capabilities over the next several years. Exhibit 7 shows the response.
Over half the respondents said they are planning new drydocking facilities. A large number said they plan to improve machine shops and expand their engineering staff.
IMA's full report (about 200 pps.) on the Navy overhaul market will be available in May 1984. It will be sold for $480.
This price includes the initial report plus four quarterly updates.
The report can be obtained by writing: James R.
McCaul, President, International Maritime Associates, Inc., 1800 K Street, N.W., Washington, D.C.
20006.
A special pre-publication price of $380 is available to purchasers of the report who order prior to May 1.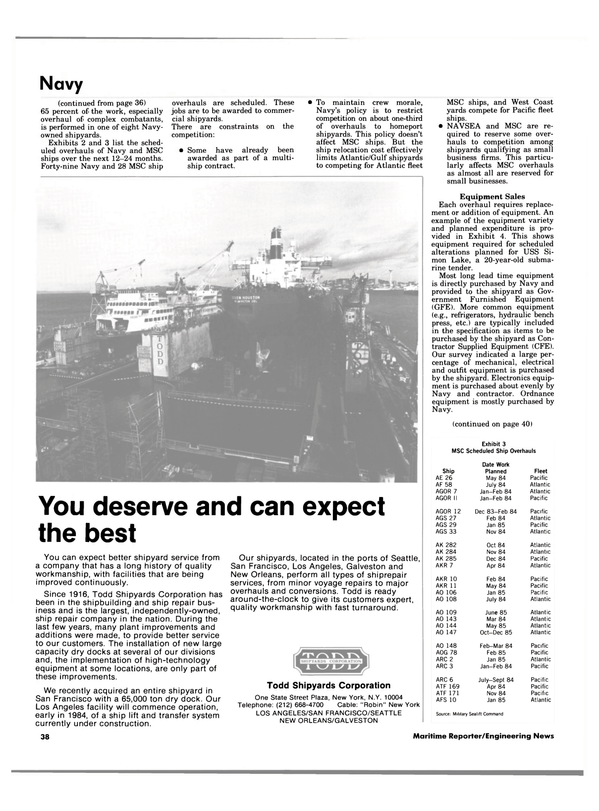 Read Navy Repair And Overhaul Market in Pdf, Flash or Html5 edition of April 1984 Maritime Reporter
Other stories from April 1984 issue
Content