New Supply/Fire-Fighting Vessel Delivered To Gulf Fleet Marine
Gulf Fleet Marine Corporation, headquartered in New Orleans, has taken delivery of the Gulf Fleet No. 45 (shown above), a 185-foot by 40-foot by 14-foot supply/fire-fighting vessel from Quality Shipyards, Inc., another Gulf Fleet company, located in Houma, La.
The vessel is powered by twin GM Electro-Motive Division 16- 645 E6 diesel engines that generate a total 3,900 bhp at 900 rpm, driving through Reintjes WCV 481 3:1 reduction gears.
Equipped with four bulk tanks with a total capacity of 4,000 cubic feet, the Gulf Fleet No. 45 can carry 1,250 barrels of liquid mud or calcium chloride that can be transferred at a rate of 550 gpm at 180 feet, and can carry 141,360 gallons of drill water that can be transferred at a rate of 400 gpm at 160 feet.
In addition to exceeding basic offshore supply vessel requirements, the Gulf Fleet No. 45 is equipped with two fire pumps and four fixed water nozzles for fighting fires offshore. The fire pumps are driven by GM Detroit Diesel Allison 16V-92NA diesel engines installed below deck in segregated pump rooms. Each engine develops approximately 736 bhp at 2,100 rpm while the vessel's fuel system is piped directly to the fire pump engines allowing continual replenishment of the fuel supply for a possible fire-fighting role.
Fire pumps are horizontal split case pumps m a n u f a c t u r e d by Warren Pump Company and are direct-coupled to the drive engines.
Each pump is capable of delivering 5,000 gallons per minute at 177 psi discharge head of saltwater. Total system capacity is 10,000 gallons per minute. The pumps take suction through 24- inch individual sea chests, and discharge through headers located port and starboard.
The 6-inch f i r e nozzles are mounted on the discharge headers.
The discharge piping is arranged in order that either one or both pumps can d i s c h a r ge through any combination of water nozzles. The nozzles are strategically located forward on the catwalk between the stacks and aft on the main deck to allow for maximum flexibility and water spray patterns when fighting o f f - shore fires. Each nozzle is capable of delivering 2,500 gallons of water per minute.
The unique fire-fighting system is also capable of producing up to 4,000 gallons per minute of specially formulated fire-fighting foams. When required, the system can be converted from a conventional water system to the foam system. The foam system is completely self-contained, with 12,319 gallons of f o am liquid stored in integral hull tanks.
A 25-hp foam injection pump is piped into the discharge header of the fire system. Foam spray is produced by injecting the foammaking liquid into the system through a specially designed proportioning system that mixes the foam liquid with seawater. In the foam-generating mode, the four water spray nozzle tips are replaced with adjustable fog nozzles.
Fire-fighting s y s t em pumps, controls, and valves are installed in the below-deck pump rooms.
For ease of access and control they are segregated from the vessel's systems. The special firefighting system meets requirements of the Norwegian regulatory agency, Det norske Veritas, 'Fire Fighter I" classification for height and d i s t a n c e of water stream throw.
In a brief ceremony aboard the Gulf Fleet No. 45 at the Chevron Oil Company Docks at Amelia, La., Capt. William J. Ecker, USCG, Officer in Charge of Marine Inspection in New Orleans, presented a certificate to Gulf Fleet president Richard M. Currence.
This represents a significant milestone in the development of the U.S. Coast Guard's Marine Safety Information Systems, which awarded its first computer-generated Certificate of Inspection to the vessel.
The U.S. Coast Guard's Marine Safety Information System has been under development since the mid-1970s. It is designed to ultimately connect, via a data transmission network, all Coast Guard Marine Inspection Offices, Captain of the Port Offices, Marine Safety Offices, District Offices, and Coast Guard Headquarters. This telecommunications network will link these offices to the Coast Guard's Operational Computer Center, where an information system has been developed to maintain all facets of the Coast Guard's activities involved with safety of life, property, and environment in the marine domain.
While this "ultimate goal" is several years away, the system is gradually building toward it by providing limited capabilities to field offices as the system is developed.
The New Orleans Marine Inspection Office, the largest office in the United States, has been actively involved in the development of this information system. It is the first office to award a Certificate of Inspection from the information system data base.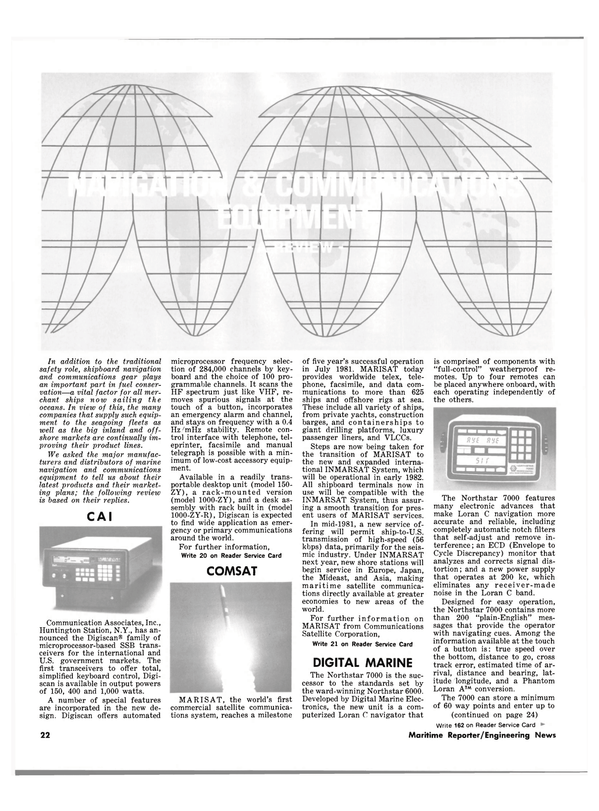 Read New Supply/Fire-Fighting Vessel Delivered To Gulf Fleet Marine in Pdf, Flash or Html5 edition of April 15, 1981 Maritime Reporter
Other stories from April 15, 1981 issue
Content