Santa Fe Drilling's Seven Offshore Rigs To Cost $350 Million
The contract oil and gas well drilling industry is enjoying an unprecedented boom, both on land and offshore, around the world.
New construction of drilling units is announced almost daily. The ability of drilling contractors to order offshore drilling units is often limited by the availability of construction slots in shipyards that build rigs.
The reasons for the boom in drilling appear to be t w o f o l d.
First, of course, is the higher price of crude oil on a worldwide basis. But this does not fully explain the story. The second reason is a compelling political drive by the producing countries—and the third world nations — to define their ultimate reserves regardless of the near-term market for their oil.
As this assessment may take 10 years or more, the drilling contractors have been quite aggressive in ordering new rig construction.
Some companies are building on speculation; others order new rigs only after they have been committed.
The construction activities at Santa Fe Drilling Company, headquartered in Orange, Calif., are probably typical of the industry.
New construction by Santa Fe is unusual only in the diversity of equipment being ordered.
When Santa Fe Rig 124 (photo) went to work for Arco-Indonesia in the Java Sea earlier this year, it marked the first of eight new mobile offshore d r i l l i n g units scheduled to go into operation for the company in the early 1980s.
Santa Fe has seven other marine units either on order or undergoing conversion, at a cost in excess of $350 million. (An additional 13 land rigs are on order at a cost of $92 million, making the grand total $442 million.) When this phase of construction activity is completed, Santa Fe will be operating 34 marine units and 74 land rigs, for a total of 108 drilling units. Most of these rigs are working overseas in 15 different nations, primarily in Venezuela, the Middle East, the North Sea, Africa and Southeast Asia. Santa Fe's domestic operations are in Texas and Louisiana.
Now in design or under construction for Santa Fe are three large semisubmersibles, a trio of three-leg jackups similar to Rig 124, and a swamp barge. Here is a breakdown: Rig 130. This semisubmersible is the f o r m e r Choctaw I, the world's first twin-hull, columnstabilized pipelaying and derrick barge. It was built in 1969 and performed c o n s t r u c t i o n work from Australia to the North Sea for 11 years for Santa Fe Engineering & Construction Company, a sister company to Santa Fe Drilling. The barge is presently undergoing c o n v e r s i o n at the Avondale shipyard near New Orleans.
Upon completion in August, Rig 130 will begin a two-year drilling contract for Cities Service.
Rigs 135 and 140. These large, all-weather semisubmersibles will be modified versions of the Enhanced Pacesetter series designed by the marine architectural firm of Friede and Goldman of New Orleans. They will be capable of operating in such hostile environments as the Gulf of Alaska and north of the 62nd parallel in the North Sea. Both are being built in South Korea by Daewoo Shipbuilding & Heavy Machinery Ltd.
at its Okpo Island shipyard near Pusan. Rig 135 will be delivered in November 1982 and Rig 140 the f o l l o w i n g March. Both of these $80-million units are committed for work.
Rigs 127, 134, and 136. These three jackups, under construction at China Shipbuilding Company, Kaohsiung, Taiwan, are sched scheduled for completion in April 1983, December 1983, and June 1985.
They are committed to work initially for Arco, Union Oil, and Gulf of Suez Petroleum Co., an affiliate of Standard Oil Co. (Indiana).
They, like Rig 124, are modified versions of the L-780 series c a n t i l e v e r e d jackups designed by Friede and Goldman.
They are capable of drilling in 250 feet of water to depths 20,- 000 feet below the seabed.
Rig 132. This unit will go to work this summer as a swamp barge in the Orinoco Delta of Venezuela. Rig 132 is the former Santa Fe launch barge Shawnee.
It is being renamed the Orinoco I, and is committed for three years to the Venezuelan oil company Lagoven.
The seven marine units and 13 land rigs being built f o r Santa Fe Drilling are being designed and rigged up by Santa Fe Engineering Services Company, another sister company. In addition, this Engineering Services group is designing and rigging up 11 other drilling rigs for outside clients.
Nine are land units for two Ven- ezuelan oil companies. A Britishbased affiliate, Taywood-Santa Fe Ltd., is designing and building two fixed-platform rigs for Gas Council (Exploration) Ltd., a subsidiary of British Gas Corporation.
These fixed platform rigs will be operated by a joint venture, Taywood-Santa Fe Drilling Ltd.
James C. Thrane, vice president and manager of capital projects at Santa Fe Engineering Services Company, said his design and construction people are as busy now as they have ever been.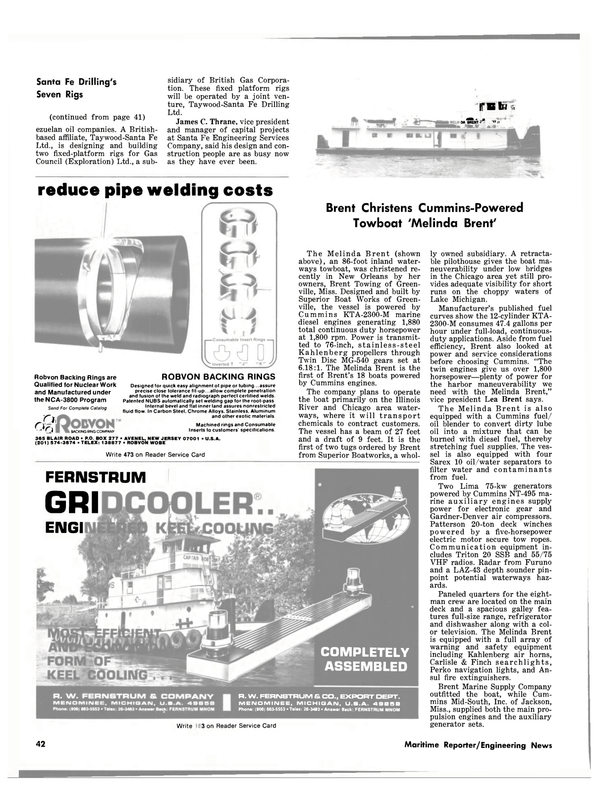 Read Santa Fe Drilling's Seven Offshore Rigs To Cost $350 Million in Pdf, Flash or Html5 edition of April 1981 Maritime Reporter
Other stories from April 1981 issue
Content