MARINE DECK MACHINERY A REVIEW
The boom in offshore drill rig ordering during the past year—a total of 156 were contracted for during 1980 worldwide — broke all previous records. At year-end, there were 195 rigs of all types on order. This, along with the hundreds of vessels needed to serve these new rigs, has sparked the market for all types of deck machinery, including cranes, winches, capstans, windlasses, and mooring systems.
We asked the major manufacturers of deck machinery to tell us about their equipment and marketing plans; this review is based on their replies. For additional information and free literature on deck machinery, Write 67 on Reader Service Card ALASKA MARINE CRANE Alaska Marine Crane of Seattle recently announced the introduction of its model MCF 2550 platform-mounted marine crane.
This new product gives the company a line of platform cranes with lifting capacities ranging from five to 35 tons.
The hydraulic-operated MCF 2550 has a 25-ton lift capacity at 10-foot radius; pedestal diameter is 41 inches. The 50-foot boom has continuous swing rotation in either direction up to two revolutions per minute. Hinge pins, cylinder rods, and fasteners are stainless steel. The hydraulic winch is a high-speed model with 300 feet of wire rope, and fourpart fall block with swivel hook and safety latch.
Alaska Marine sees the unique rotating cab with self-contained power pack, and the high pedestal as the main selling features of the MCF 2550, and the major markets the offshore, shipbuilding, and fishing industries. The new crane is fully certified by the American Petroleum Institute, and has a six-month factory warranty.
APPLETON MARINE The Appleton Marine Division of Appleton Machine Company in Appleton, Wise., designs and manufactures a wide range of marine deck equipment, including all styles of cranes and winches as well as deck fittings. Each design is governed by appropriate regulatory agencies such as the American Bureau of Shipping, U.S.
Coast Guard, American Petroleum Institute, and Det norske Veritas. The division serves all sectors of the marine market, including offshore drilling units and support vessels, and oceangoing ships.
Among the major Appleton Marine products are: dual wildcat offshore mooring winch for mooring offshore drill ships and semisubmersibles; swivel fairlead and chain stopper, part of a drill ship mooring system; three-section, extendible-boom crane rated 1,500 pounds at 38 feet; 300-hp electro-hydraulic, hose-handling crane rated 15 metric tons at a 54-foot outreach; and the aluminum Sea-Lift® crane, built to American Bureau and Coast Guard specifications, which features 360-degree continuous slewing and boom tip braking system to prevent the load from swinging.
Other Appleton products include anchor windlasses, oceanographic winches, deck fittings, knuckleboom cranes, diving system winches, and mooring system control consoles.
BEEBE BROS.
Beebe Bros., Inc. of Seattle recently announced a major new improvement to the Beebe-65 Barge Wrinch, which is widely used throughout the industry, an electric brake that increases holding capacity from 60,000 to 70,000 pounds. The barge connector with the new, higher holding capacity brake continues to feature quickrelease dogs with holding capacities up to 100,000 pounds. According to Beebe, the design of the electric brake not only increases braking torque and holding capacity, but reduces brake adjustment requirements and extends brake life.
Built for use with U/i-inchdiameter and smaller lines, the unit is said to be fast and easy to operate electrically by remote control from the pilothouse, deck, or both. The Beebe-65 winch is also available with air or hydraulic motors.
CLYDE IRON Clyde Iron, a unit of AMCA International Corporation, manufactures a line of heavy-duty winches and cranes for shipboard and offshore applications. One of Clyde's outstanding offshore crane installations in recent years is aboard the giant semisubmersible, pipelaying/derrick barge Semac I. Heavy lifts on the vessel are accommodated by a Clyde Model 42 Offshore Whirley with full electric drive, capable of lifting 500 tons overstern and 350 tons full revolving. Simple, rugged, and easy to maintain, that crane was customized and tailored to meet the huge barge's unique requirements.
Also installed aboard the Semac I are three Clyde CPS-96 Sea Whirlers™ with 75-ton main load blocks. Used for routine lifting, these full-revolving, fast-cycling, versatile pedestal cranes contribute greatly to the vessel's material- handling requirements.
Clyde's AD™ winch, engineered in graduated sizes with stall pull,/ bare drum ratings from 150,000 to 350,000 pounds, is offered in single or multiple drum arrangements for anchor/pulling applications.
Features of the AD line include: anti-friction bearing design ; alloy steel shafts, supported close to load centers; rigid, heavily braced framing and bearing housings; l a r g e - c a p a c i t y steel drum; spring-loaded, air-released pawl; h i g h - s t r e n g t h , multiple steel roller chain drive, splash oil bath lubricated; heavy-duty, single contracting band brake, air released; hand-operated air controls assembled in modular console within easy reach of the operator; and air compressor and receiver.
Clyde also offers a constant tension hydraulic tugger, the CTH Models, with running pull/bare drum ranging from 10,000 to 54,- 000 pounds. The CTH tugger hydraulic pump and motor combination can be driven by either a TEFC continuous rated squirrel cage electric motor or diesel engine.
HIAB CRANES & LOADERS Hiab Cranes & Loaders Inc., with offices in Newark, Del., and manufacturing facilities in York, Pa., has more than 25 years experience in the design and manufacture of marine cranes. In order to meet the growing market demand for deck cranes, Hiab has produced offshore versions of its most popular loaders—the model 650 and the model 1165 with increased corrosion protection.
These marine cranes feature allround bases for deck mounting in offshore applications, and are available with a wide range of lifting attachments to enhance their versatility.
The Hiab 1165 is a 100-percent marine crane designed and built for the demanding offshore supply and workboat industry. Available with lifting capacities up to 10 tons, it offers corrosion-resistant construction and reliable hydraulic operation that insures years of trouble-free service under the toughest operating conditions.
Rotability through a full 360 degrees and adaptability for mounting at virtually any shipboard location makes the Hiab unit one of the most versatile deck cranes ever offered for marine service.
All Hiab deck crane models fold quickly and conveniently into a compact stow-away position. The company's most popular model, the 1165, extends to a 48-foot height and 42 feet horizontally; when not in use, it folds to 31 by 88 by 78 inches.
Other features include one-man operation, a full range of special lifting attachments and accessories, stationary mounting for shoreside cargo handling, etc.
Hiab cranes are suitable for use on all types of ships, vessels, workboats, and barges; sales, service, and parts are available on a worldwide basis in more than 60 countries.
HYDE PRODUCTS Hyde Products, Inc. of Cleveland, a subsidiary of Zimmite Corporation, has manufactured quality deck machinery since 1895.
Its latest venture in deck machinery is a remote-drop, barge anchor windlass that incorporates the most recent developments in hydraulic technology. The company has also been active in the design of products and systems to increase steering gear reliability and provide pilothouse control of emergency situations.
Hyde's electro-hydraulic, automatic constant-tension mooring winches will automatically maintain a constant line pull with zero creep. The winches render automatically when the load exceeds the preset rendering pull, and automatically heave in when the load falls below the preset tension.
Horizontal or vertical anchor windlasses can be furnished in an assorted arrangement of components to meet specific customer requirements. These units can be either electric or electro-hydraulic drive, ac or dc.
The Hyde automatic power unit transfer system is designed to provide automatic pilothouse control of steering systems that currently use manual power unit transfer procedures. The rudderarresting and standby steering system provides a means to hold and move a ship's rudder or rudders in the event of main steering failure. And the Hyde/Henschel rudder failure alarm system is designed to actuate an audible and visual alarm in the pilothouse when the rudder differs more than five degrees from the position ordered by the helm.
LAKE SHORE Lake Shore, Inc. of Iron Mountain, Mich., designs and manufactures a full line of deck machinery, including: mooring, cargo hose, topping, anchor-handling, and t r a c t i o n w i n c h e s ; anchor windlasses; lifeboat davits; and cranes for cargo handling, hose and stores handling, and diesel engine service for ocean, Great Lakes, offshore, and Navy applications.
Types of drive systems supplied include hydraulic, electro- hydraulic, diesel, static dc, w o u n d - r o t o r ac, and variablefrequency ac.
Lake Shore's Marine Sales Department specializes in customdesigning machinery to meet customer specifications. In addition to its own designs, the company is the U.S. licensee for Clarke Chapman cargo-handling cranes, and represents Norwinch for offshore winch applications, Aquila Favco for offshore crane applications, and Marine Cranes for hose-handling and stores cranes.
MacGREGOR COMARAIN MacGregor-Comarain Inc. of Cranford, N.J., is the U.S. arm of the giant MacGregor Organisation, the world's biggest supplier of cargo access equipment, hatch covers, ramps, doors, elevators, and platforms. With International Coordination Centres in Paris and near London (Hounslow), MacGregor serves the shipbuildindustry through 36 subsidiaries, licensees, and agents worldwide.
MacGregor-Comarain is involved in at least three of the c u r r e n t i n t e g r a t e d tug/barge (ITG) projects in the U.S., having secured contracts for two of them, with others pending. For the ITB under construction at Sun Ship for California and Hawaii Sugar Company, the Cranford firm is supplying hatch covers and coamings as a package unit. The hatch cover chosen is MacGregor's direct pull, wire operated from the barge's own deck cranes, of which there are three.
Other recent U.S. installations include the three bulk carriers nearing completion at Levingston Shipbuilding, three RO/RO-containerships building at Sun Ship for Waterman Steamship Company, Farrell Lines' two containerships delivered recently by Bethlehem's Sparrows Point yard, Waterman's two LASH ships delivered by Avondale last year, and the two heavy-lift vessels constructed by Peterson Builders for American Heavy Lift.
MacGregor-Comarain Inc. has been an integral part of the U.S.
maritime community f o r more than 33 years, during which time it has furnished nearly 200 shipsets of cargo access equipment to American shipbuilders. As part of that community, said company president John Nydegger, it will continue to support and encourage the expansion and growth of U.S.-flag construction.
MARATHON LeTOURNEAU Marathon LeTourneau marine pedestal cranes, installed on all classes of the Houston companny's self-elevating, offshore drilling platforms and supplied to other segments of the marine industry for installation on other types of vessels, are manufactured in a range of lifting capacities and configurations to meet many offshore industry needs.
Models PCM-80AS, PCM-120 AS, and PCM-350 make up the Marine Division's line of pedestal cranes. All three models can be supplied to American Bureau of Shipping specifications, and utilize the field-proven LeTourneau diesel-electric power system that greatly simplifies operation. All are of proven design, which has not required significant modification since its introduction.
This design features a main column, or pedestal, that serves both as housing for main bearing and mounting for the swing gear, thus eliminating the need for hook rollers. In the unlikely event of support bearing failure due to overload, the crane body comes to rest on the pedestal rather than breaking free. The original design also incorporates a fail-safe, spring-loaded braking system. If power is interrupted, the operating system locks, thus preventing uncontrolled movement of hook, luffing, or swing members.
The versatile and widely used, variable-radius, f u l l - r e v o l v i ng PCM-120 AS marine pedestal crane, several of which are normally standard equipment on Marathon jackup offshore rigs, is also available in optional models PCM-120 and PCM-120C. The unit has a 50-ton maximum lifting capacity when equipped with a 100- foot boom. The unique column design provides ideal support for operation of the swing gear and its motor-driven pinion. PCM- 120AS swing and hoist functions are powered by dc motors to permit smooth operation at infinitely variable speeds.
The standard gantry for models PCM-120 AS, PCM-120, and PCM-120C features an all-welded, two-piece frame that greatly simplifies erection. The Marathon LeTourneau engineered boom, another proven design, features ball joint mount. Boom insert sections allow for a wide choice of boom lengths, ranging from a minimum of 60 feet up to 120 feet. A jib with separate winch for a 5-ton straw line is also available.
Newest and largest capacity Marathon LeTourneau variableradius marine pedestal crane, the 60-ton-capacity at 5 8 - f o o t outreach PCM-350, utilizes dc electric motors for smooth operation and control of main hook and boom luffing, straw line, and crane swing.
The unitized main frame, winch housing, and turntable are of allwelded, heavy steel plate. The main frame also serves as support for the optional machinery house and operator's cab with control console.
The PCM-350, which like all Marathon marine pedestal cranes can be operated from the cab or a remote station, features a unique gantry with all-welded structural components and springloaded boom stop member.
The PCM-80AS unit has a 30- ton lifting capacity and unique cdlumn design that provides ideal support f o r operation of the swing gear and its motor-driven pinion.
Its swing and hoist functions are powered by dc motors for smooth operation at variable speeds.
Also available in two optional models, PCM-80 and PCM-80C, this variable-radius crane can be operated either from the cab or a remote station, with remote control a standard feature on all models.
SCHAT DAVIT Schat Davit Corporation of Newark, Del., manufactures a variety of cranes for shipboard applications.
(In this c o m p a n y 's terminology, the terms "davit" and "crane" are used interchangeably.) The Schat Special Purpose Davit (SPD) is designed, as its name suggests, with a particular task in mind. Its manufacture, therefore, can be more economical than a standard deck crane that is designed f o r c o n t i n u o u s usage.
Among the wide range of Schat's SPDs are the rigid arm davit and the davit jib with tie bar.
The davit with a rigid arm is generally suitable for the lighter load range up to about two tons.
Jib and tie bar construction is suitable for loads above two tons, or where the required hook height or large radius precludes the use of the more economical rigid arm unit. The SPD's hoist winch can be operated electrically, hydraulically, or pneumatically, and in the case of light loads, manually.
The slewing gearbox can be similarly powered, although in this case it is possible to slew loads of up to five tons by manual operation, depending on outreach and other conditions. These small, special purpose cranes, with lift capacities up to five tons, are commonly used to handle stores, accommodation ladders, bunkering hoses, and engine room parts.
Schat gantry cranes incorporate a double track feature for increased stability and for locating the hoist and traversing ropes within the track flanges. Tracks terminate at the ship's side; outreach is obtained on either side of the vessel by the traversing carriage. Typical capacities are five tons over the side, with a combined center lift of 10 tons.
The carriage is f i t t e d with Meehanite sheaves with sealed roller bearings mounted on stainless steel flanged rollers, fitted with self-aligning roller bearings.
Side guide rollers are provided to insure stability and satisfactory operation under trim conditions.
Winches are totally enclosed, with gears running in an oil bath. The winches are mounted on deck, and the moving carriage is completely free from the power supply. Limiting devices are provided to safeguard all motions. The gantry crane is operated either by a remote control console carried by the operator, or from fixed operating stations on deck.
Schat hose handling cranes designed specifically for tanker cargo hoses are available with capacities up to 20 tons for handling the largest cargo hoses. Schat is a leading supplier of this type crane, with well over 200 units in service.
The base of the oil hose crane provides access for the incoming supply over a rotary union, allowing rotation of the crane in either direction through more than 360 degrees. The base has a circular flange for mounting on a deck foundation. A slewing ring fitted to the base is capable of sustaining vertical load and tilting moment.
The jib is a steel fabrication incorporating the bearings for the pivot pins on the yoke and sheaves for the wire ropes.
For transfer of oil at sea, Schat has developed its "Flow Boom" crane that handles single or twin hoses, with operating envelopes that consider the relative p o s i t i o n s between ship manifolds.
Flow capacity for crude oil through 20-inch hose is 6,000 tons per hour; through 24-inch pipe construction flow boom, capacity is 12,000 tons per hour. Flow velocity is 48 feet per second at pressures up to 150 psi.
TBW INDUSTRIES Versatility has never been more in demand in the maritime industry than it is today, and this is what characterizes TBW Industries' philosophy in the development and marketing of its deck machinery products for the 1980s, according to Robert M. Thompson, president of the Houma, La.
company.
The products of TBW's SMATCO Division have long been synonymous with the offshore industry.
Its original line of equipment centered around anchor-handling/ towing winches. Within a short time span in the early 70s it had expanded to include a complete line of machinery ranging from anchor windlasses to stern rollers.
As the quest for oil moved from the calm, shallow waters of the Gulf of Mexico to the harsh environment of the North Sea and the deepwater exploration in Southeast Asia, SMATCO earned its reputation for toughness and durability. It is this type of work that led SMATCO to its latest development: caliper/disc brakes and clutches. The refinement of this system has opened new options to the operator faced with the tasks of heavier loads in deeper waters. Taking the heart of the brake system to task, SMATCO now offers disc brakes on all of its winches and related equipment.
Another advancement in the state of the art has been the design of a double-drum waterfall winch designed especially f o r tugboats.
T r a d i t i o n a l l y , waterfall w i n c h e s were unacceptable because of height. SMATCO's new low-profile winch has eliminated this major problem and at the same time reduced the overall width by nearly 50 percent. This offers the operator a larger and safer working area, as well as the a d v a n t a g e of always working closer to the center line of the vessel.
Recognizing the U.S. maritime industry as an area needing the same level of quality as the offshore oil o p e r a t o r s , SMATCO launched an effort to become a sought-after supplier. Since its initial effort in 1978, the company has secured mooring equipment orders from major shipyards such as Sun Ship, NASSCO, Avondale, N e w p o r t News, and General Dynamics. Ships include RO/'ROs, product carriers, and dredges.
A further development has been the SMATCO-Samson range of soft rope, twin capstan type tractor winches. Originally developed by Samson Ocean Systems, Inc.
and now manufactured exclusively by SMATCO, these range in line pulls from 6,500 to 400,000 pounds. Currently under construction are six of these designed to operate with 21-inch-circumfer- ence nylon rope; they will be installed on six Exxon tankers.
The signing of a license agreement with Ishikawajima-Harima Heavy Industries (IHI) of Tokyo further broadens TBW's manufacturing capabilities for the maritime industry. The license covers SMATCO's manufacture of IHI's Mark II series electro-hydraulic cranes and deck machinery. These cranes have capacities from 5 to 80 tons, in both single and double configurations.
A barge operator in Argentina recently became one of the first customers for a new radio-controlled, emergency anchor windlass system that has been designed, developed, and manufactured by SSI, another TBW Industries company. The new system, installed on barges built by Astilleros Espanoles, S.A., is designed to reduce substantially one of the major hazards in the shipping industry — the danger imposed by f r e e - d r i f t i n g barges when the towline between them and the tug has been severed.
Upon severence of a towline, the SSI system immobilizes the barge by allowing its anchor to be released by remote control.
Pedestal Crane, newest member of the TBW family and producer of a full line of stationary cranes with the patented King Post design, used for both offshore and onshore materials handling, has just announced new sales of more than $2 million to Amoco, Mobil, Sun Ship, and Texaco.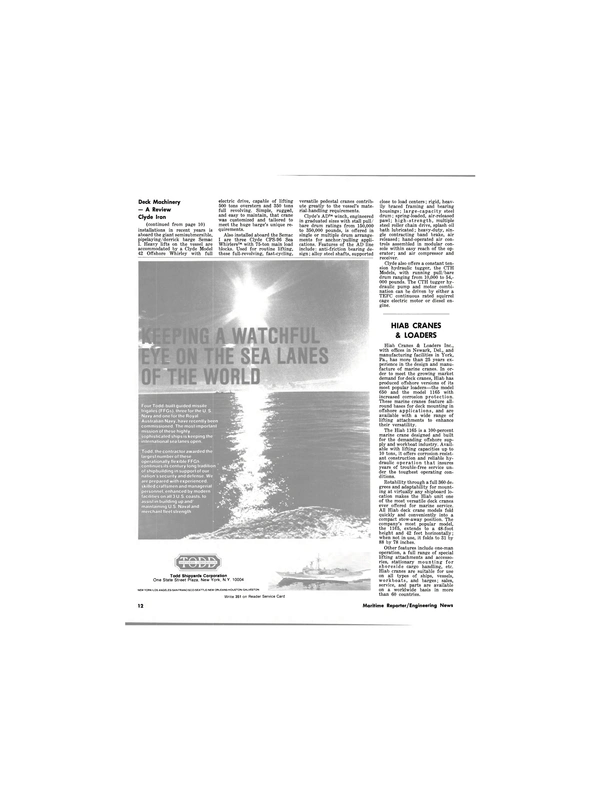 Read MARINE DECK MACHINERY A REVIEW in Pdf, Flash or Html5 edition of February 1981 Maritime Reporter
Other stories from February 1981 issue
Content