Advanced Vessel To Join Fleet Of Tidewater Marine Joint Venture
One of the most advanced vessels to go into service for Tidewater Marine Service, Inc.'s Australian joint venture company, Tidewater Port Jackson Marine Pty., Ltd. of Sydney, was nearing completion at Carrington Slipways, N e w c a s t l e , New South Wales, when the photo above was taken. The vessel is the Flinders Tide, named in honor of the 18th century explorer Capt. Matthew Flinders, Royal Navy, who discovered and charted large areas of Australia's coastline, with emphasis on the Bass Strait, where the vessel is expected to operate.
"Flinders Tide is designed to provide support for a remotecontrolled vehicle (RCY), which is an undersea submersible used to survey and monitor pipelines and underwater construction, and to aid seabed survey work. The vessel also has important secondary functions that include diving and firefighting roles," according to Ray J. Hope, executive vice president of Tidewater Marine Service, Inc., and J.C. (Bill) Needham, manager of Tidewater Port Jackson Marine Pty. According to Mr. Hope and Mr. Needham, Flinders Tide will be among the most advanced vessels currently engaged in the offshore oil and gas industry and will rank high among the world's most specialized offshore support equipment.
"The RCV, attached to the vessel by cable, will propel itself along the ocean floor, or pipeline, and will relay pictures by television camera to the mother vessel.
It is equipped with remotecontrolled arms capable of handling small objects, wire, shackles, or tools, and is remarkably versatile," they said.
The Flinders Tide will be able to keep station on the RCV by operating in the dynamic positioning mode, maintaining position automatically in winds up to 20 knots with associated seas, plus t w o - k n o t current, either from the same or different directions.
Approximately 51 meters (167 feet) long, the new support vessel will be powered by twin EMD 12 cylinder 645-E6 main engines having a total of 3,000 hp (maximum continuous) at 900 rpm, driving controllable-pitch propellers, and three 600-hp Ulstein transverse thrusters. When in the dynamic positioning mode, the main engines will run at constant speed and control of the main propeller pitch, three transverse thrusters, and twin rudders will be effected by a Honeywell A.S.K.
model 3100 computer. The system will be capable of using either a Decca "Trisponder" surface network or a Honeywell RS 902 hydro- acoustic subsea beacon position reference system.
The RCV will be deployed t h r o u g h a 10-meter-diameter "moon pool," and when engaged in seabed recovery work, will be used in conjunction with deck winches and a hydraulically operated hinged " A " frame stern gantry of 30-ton S.W.L. Two 50-ton, two 10-ton, and two 3-ton hydraulic deck winches will be fitted.
The Flinders Tide has accommodations for divers, and when working in this mode the vessel can be moored in a four-point mooring system p i o n e e r e d by Tidewater Marine. The vessel's anchors will utilize the generalpurpose winches and windlass. In diving support work, a saturated diving system can be provided on deck, and the bell will be deployed through the moon pool which is capable of aeration for this purpose.
Workshops and RCV control room are provided onboard.
A firefighting system capable of delivering 2,400 tons of water per hour will be installed. The two remote-controlled m o n i t o rs will be fitted atop a special gantry crane at the stern. Each will be powered by a 960-hp diesel pump capable of discharging water a distance of 145 meters to a height of 40 meters (475/131 feet).
The Flinders Tide was expected to go into service in January 1981.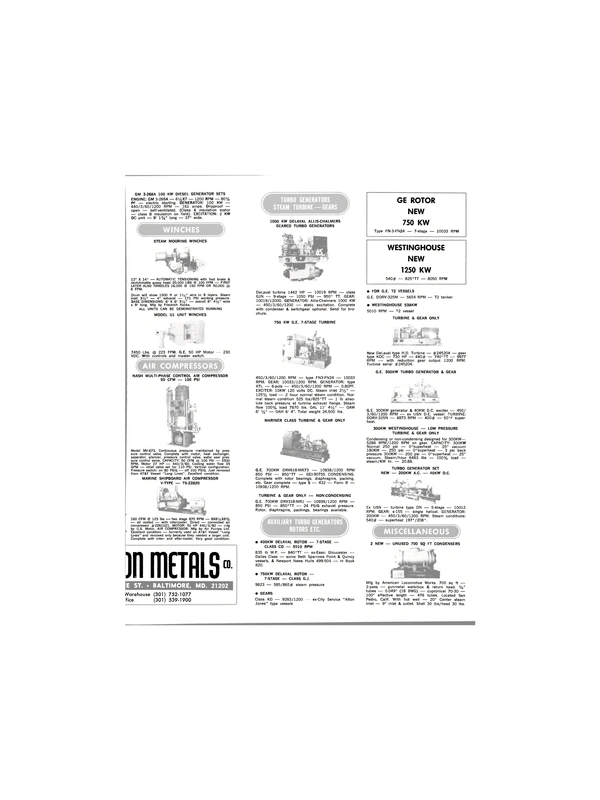 Read Advanced Vessel To Join Fleet Of Tidewater Marine Joint Venture in Pdf, Flash or Html5 edition of February 1981 Maritime Reporter
Other stories from February 1981 issue
Content