Santa Fe Names Three To Top Management Posts
Edfred L. Shannon Jr., president of Santa Fe International Corporation, Orange, Calif., for the past 17 years, has been elected chairman of the board of directors and chief executive officer.
Assuming the newly created office of president and chief operating officer is Gordon M. Anderson, who has been president of the subsidiary, Santa Fe Drilling Co., since 1970.
The newly elected president of Santa Fe Drilling Co. succeeding Mr. Anderson is Clyde F. Dawson, who has been senior vice president and assistant to the president of the drilling subsidiary.
In stepping up to chairman, Mr.
Shannon becomes only the second person to serve in that capacity during the 33-year history of the company. He was elected president and chief executive officer in 1962 to succeed the founder of the company, the late Jerald D.
(Joe) Robinson, who served as chairman until 1966. The position had been vacant since that time.
The company was founded at Santa Fe Springs, Calif., as Santa Fe Drilling Co. in 1946, and became one of the leading international drilling contractors before c h a n g i n g its name in 1968 to Santa Fe International Corp.
After accepting its first foreign drilling job in Venezuela in 1948, Santa Fe expanded its operations to more than 70 countries and branched out from drilling to construction, e x p l o r a t i o n , engineering, oil and gas production and pipelaying. Under Mr. Shannon's leadership, company revenues have risen from $24 million in 1962 to an annual rate of more than $500 million, and a further increase of some $300 million is e x p e c t e d this year when the merger with C F Braun & Co. is closed.
Mr. Shannon graduated from the U n i v e r s i t y of California, Berkeley, in petroleum engineering in 1951, and worked two years for Union Oil Co. of California before joining Santa Fe in 1953.
Now 53 years old, he lives in Whittier, Calif., with his wife, Ruth.
Mr. Anderson, a 1954 mechanical engineering graduate of the University of Southern California, completed his 10th year as president of Santa Fe Drilling Co.
early in January.
The company now owns and/or operates more than 80 onshore and offshore drilling rigs in the United States and 14 f o r e i gn countries. Drilling operations account for approximately one-half of Santa Fe International's gross revenues.
Mr. Anderson started work for the company as a roughneck during summer vacations from Glendale College and the University of Southern California. He joined the company full time as an engineering trainee following his graduation in 1954, and later held management positions with the company in Chile, Libya and other foreign zones before returning to the home office in Santa Fe Springs in 1967. There, he served successively as manager of Contracts Administration and executive vice president before being elected president.
He has been a member of the board of directors of the parent company since 1968, and has been senior vice president since 1974.
Mr. Dawson, a 1948 chemistryengineering graduate of Stanford University, worked for Mobil Oil Corp. several years in California, Libya, Colombia, Peru, Venezuela, and in corporate headquarters in New York before joining Santa Fe as assistant manager of its Venezuelan operations in 1962.
After serving as manager in Abu Dhabi in 1963-64, Mr. Dawson returned to Venezuela as zone manager in 1965, and was promoted area manager for all Latin America in 1968.
The following year, Mr. Dawson went to Australia as vice president and general manager of the construction subsidiary, Santa Fe- Pomeroy, Inc., and later was assigned to Nigeria, where he was responsible for both drilling and construction operations.
He transferred to the Middle East in 1972, and served as Drilling Division vice president and regional manager in Tehran and Beirut. In 1976, he moved to London as vice president and general manager for the Eastern Hemisphere.
He has been assigned to headquarters in Orange as senior vice president and assistant to the president since 1978.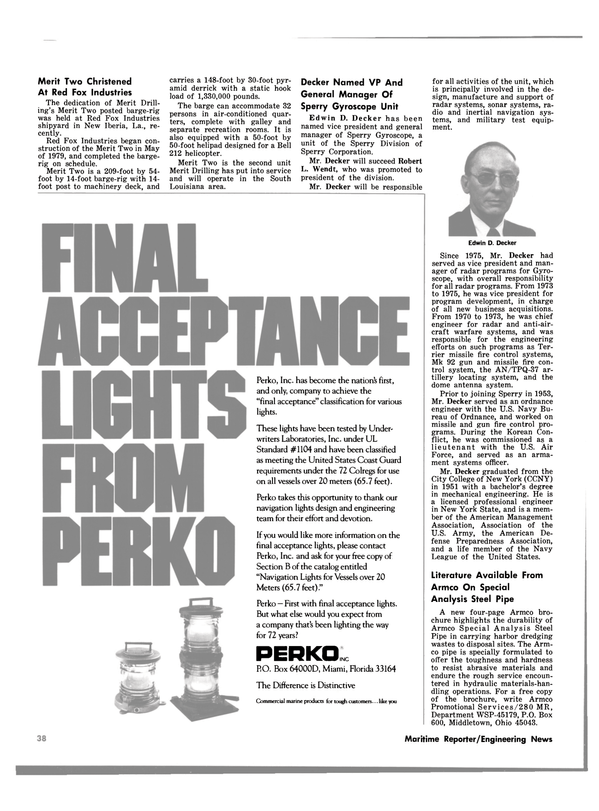 Read Santa Fe Names Three To Top Management Posts in Pdf, Flash or Html5 edition of February 15, 1980 Maritime Reporter
Other stories from February 15, 1980 issue
Content