Blount Marine Delivers Innovative Cruise Ship New Shoreham II
Luther Blount, p r e s i d e n t of Blount Marine Corporation, has announced the delivery of the New Shoreham II, a new innovative, fuel-efficient cruise ship designed to carry 100 passengers.
The vessel was constructed in six months, under U.S. Coast Guard specifications, for the American Canadian Line. It left Warren, R.I., with 72 passengers bound v i a the Inland Waterway for West Palm Beach, Fla., commencing service last December on 12- day Bahama "Out" Island cruises from Nassau.
Mrs. Jane Blount christened the New Shoreham II. Leon Flowers, port director of the Bahama Islands, along with state and local officials of both the Bahamas and the state of Rhode Island, attended the launching ceremonies.
The M ' V New Shoreham II is 150 feet long, 28 feet wide, with 36 deluxe cabins on three decks, and carries a working crew of 14.
The new vessel replaces the original M V New Shoreham, sold to West Coast interests in April 1979. From 1971 through April 1979, the original New Shoreham carried over 12,000 passengers on cruises through New England, Canada, Florida, and Bahama "Out" Islands. The New Shoreham II has enlarged facilities and expanded cabin area, increasing passenger capacity by 20 percent.
Like its smaller predecessor, this ship will be the only U.S.- flag cruise ship in the Caribbean.
Its fuel economy, bow landing facility, and new aquatic fantail concept offer new dimensions to the cruise industry.
Relying on a principle first used by the Herreshoffs of Bristol, the ship uses about the same amount of fuel for propulsion as a large cabin cruiser. Its twin GM 12V71 engines with a total of 700 hp are duplicates of those used in most 65-foot fast cabin cruisers. Speed loaded has been checked at 11 knots.
It uses less than a fifth as much fuel as most larger cruise ships when considered on a basis of fuel used per passenger per mile.
Other new concepts include a bow ramp leading from the lower deck on which a design patent has been applied for by Luther Blount. The triangular stem section hinges out to allow passengers off two abreast onto a beach or appropriate shore. The fantail offers a full-width aquatic promenade featuring recessed stairs leading to a retractable swimming boat ramp. The area also serves as an observation deck and carries a glass-bottomed auxiliary boat. Tuna outriggers and fishing equipment mounted in this area are intended to provide guests with Caribbean troll fishing while underway.
The arrangement of the new ship follows that of its predecessor but features larger and more deluxe staterooms with a larger clear sundeck aft. The ship is airconditioned and heated. Underwater exhausts, soft-mounted machinery placed away from living spaces, and generous use of sound insulation insure a quiet atmosphere.
For tight maneuvering in small harbors, the ship is equipped with Blount-built 60-hp hydraulic bow and stern thrusters.
While the New Shoreham II is designed primarily for semi-protected waters, it will provide many c a p a b i l i t i e s beyond the scope of larger ships. The new ship can navigate limited waterways like the Erie Canal because the pilothouse lowers and other superstructure retracts to clear 23 feet vertical. A limited draft of 6 feet can clear the bar into practically every yacht harbor in the Bahamas.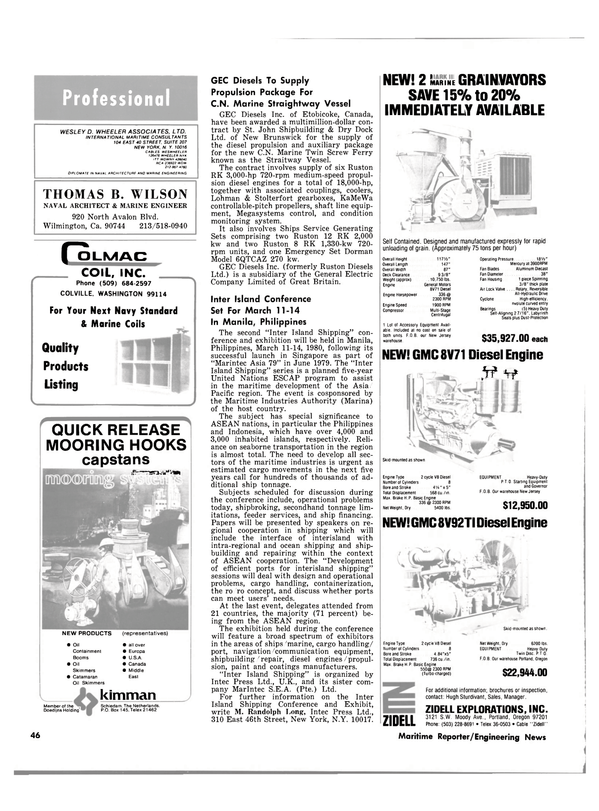 Read Blount Marine Delivers Innovative Cruise Ship New Shoreham II in Pdf, Flash or Html5 edition of February 1980 Maritime Reporter
Other stories from February 1980 issue
Content