ABS Reports Increase In Classifications
The American Bureau of Shipping (ABS) classed 1,056 new vessels of 12,581,000 deadweight tons, or 6,636,000 gross tons, in the first six months of this year, chairman and president Robert T. Young reported at the semiannual meeting of the ABS board of managers held in New York City.
During the same period, ABS classed 76 e x i s t i n g vessels of 1,883,000 dwt, or 1,054,000 gt, bringing the total number of vessels in ABS class to 14,944 of 177,800,000 dwt, or 99,886,000 gt.
Mr. Young noted that the figures represent increases in classification of both vessels and tonnage over the first six months of 1976. He also said that with the addition of July and August classification figures, ABS had for the first time in its history more than 15,000 vessels, and more than 100 million gross tons under its classification.
While the classification figures for the first six months of 1977 are "certainly gratifying," Mr.
Young told the board of managers, "they do not represent a turnaround in newbuilding activity." He said that the worldwide industry remains "in the throes of a depressed market" in which "orders for new vessels have slumped to about 25 percent of the estimated world building capacity." As of July 1, he said, 1,946 vessels totaling 28,827,000 dwt, or 17,522,000 gt, were on order to ABS classication.
ABS involvement with liquefied gas carriers is increasing, Mr.
Young reported. As of July 1, there were five LPG vessels building or on order to ABS classification, including two in Japan and one each in France, Italy, and the Philippines. In addition, there were 30 LNG vessels being built, or on order to be built, to ABS class — two in Sweden, nine in France, and 19 in the United States. The first LNG vessel built in the United States, the ABSclassed LNG Aquarius, was delivered in June, and is in service between Japan and Indonesia.
During the first half of 1977, the society classed 46 tankers — 20 of which are VLCCs—73 bulk carriers, 33 general cargo vessels, and eight cargo-carrying vessels of other types. These figures represent increases over their respective numbers classed in the first six months of 1976.
Mr. Young said that ABS was particularly active for the first six months in classifying new small vessels. Classed through June were 129 tugs, 25 tug/supply vessels, 24 supply vessels, 119 fishing vessels, 27 launches, six ferries, and 23 self-propelled vessels of other types.
Mr. Young said that more than 200,000 containers have been ordered to the ABS "Container Rules," and that as of July 1, certification orders totaled more than 19,000 units of various types and sizes, representing an increase of more than 36 percent over July 1, 1976.
Regarding ABS standards, Mr.
Young said that revisions are being made in the Rules for Building and Classing Offshore Mobile Drilling Units, and the "Guide for the Classification of Manned Submersibles." In final stages of preparation are three new standards: Rules for Building and Classing Steel Vessels for Service on Rivers, Canals, and Harbors of Continental Europe; Rules for Building and Classing Vessels of Fiber Reinforced Plastic, and "Guide for Scantlings of Aluminum Planing Vessels." Discussing ABS research and development, Mr. Young said that ABS has been involved in a major project to evaluate the integrity of offshore structures by vibration calculations and onboard measurements. "The results of this project," he said, "could be of considerable benefit to the industry in both reduced inspection costs and early detection of potential problems." In the first half of the year, Mr. Young said, ABS opened three new exclusive offices—in Gdansk, Poland, in Maracaibo, Venezuela, and in Malta. In July, a new Tech- nical Office was opened in Manila, Philippines, to facilitate plan review and provide closer technical dialogue with the growing marine industry in that part of the world.
Reporting on the ABS group of wholly owned subsidiaries, Mr.
Young said that ABS Computers, Inc., has been expanding as a computer service bureau, and now provides data processing service to many organizations. "We are optimistic about ABSCOMP's potential in this direction," Mr.
Young added, "and we have increased our information storage and printing capacity to accommodate future expected demands from the ABS group of companies and throughout the industry.
Mr. Young said that ABS Worldwide Technical Services, Inc., is engaged in third-party quality assurance and certification services covering materials and machinery components for portal cranes, drilling equipment, chemical plants, oil refineries, and hydroelectric turbines located in Europe, Asia, the Middle East, and North and South America.
Mr. Young reported that a major current project of EXAM Company involves X-ray inspection of field welds in 440 miles of the Dome Pipeline. The Dome line runs from Calgary, Canada into Eastern United States, and EXAM is monitoring the section east of the Mississippi River. Additional EXAM assignments include X-ray inspection of other pipeline sections located primarily in Central and North Central United States.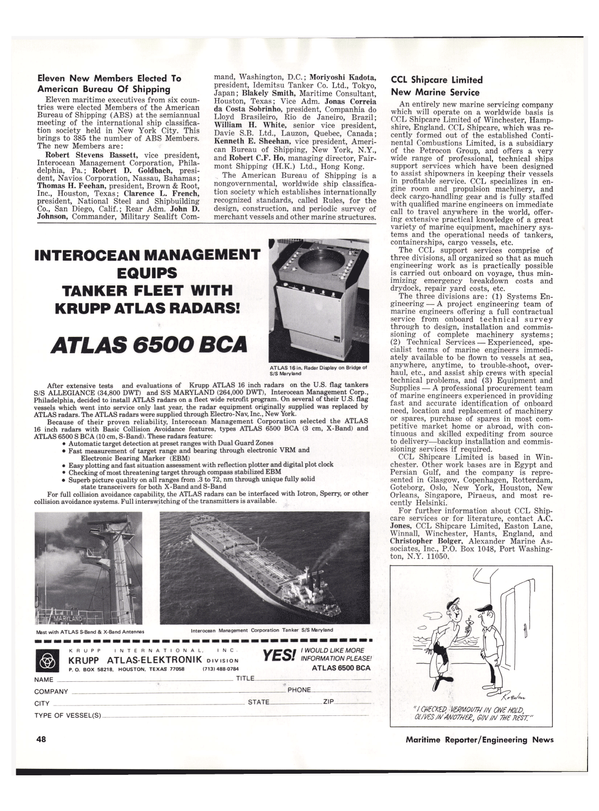 Read ABS Reports Increase In Classifications in Pdf, Flash or Html5 edition of October 15, 1977 Maritime Reporter
Other stories from October 15, 1977 issue
Content