Virtual Aid to Navigation: Here Now, Here to Stay
Marine News
Vesper Marine designed its Virtual AIS Beacon in 2010 and installed the first solution in 2011. Developed to address the need to make hazards at sea visible when costly physical infrastructure is not appropriate or is impossible to deploy, the Virtual Aid to Navigation technology that Vesper Marine has created is based on the international standardized AIS, which all large ships must use and many yachts and smaller vessels are now choosing to install due to the safety and collision avoidance benefits it provides.
Virtual ATONs 101
A Virtual Aid to Navigation is created when a signal sent from a transmitter in an accessible location is used to mark a remote point. This mark is displayed as a navigational feature or hazard on a vessel's chart plotter, AIS display or other receiving equipment when within range. The ship's onboard equipment is then able to alert crews if they are on a collision course with the marked navigational hazard.
After Vesper Marine successfully used this technology to implement a course perimeter system for spectators at the last two America's Cup competitions in San Francisco (2013) and Bermuda (2017), Volvo Ocean Race organizers approached the company for the same technology to manage their In-Port Races. Establishing a virtual perimeter around the course, the Guardian Virtual AIS stations broadcast information to spectator and race official boats using AIS frequencies – painting the course on their navigation systems.
As a result, spectator and official vessels can quickly and easily see their own positions relative to the course boundaries on their navigation displays, to ensure they are safely outside the course at all times. In addition, Guardian cloud software will continuously monitor vessel positions and proactively send both the vessel and the Volvo Ocean Race organizers an alert if a hazardous situation develops. The virtual marks can be configured remotely to change with conditions and the Guardian system can be easily moved to each host city using the same hardware and cloud based software.
Guardian:protect – a Commercial Application
Recently, Vesper Marine provided its Guardian:protect system to New York Power Authority (NYPA) to protect submerged power cables in the Long Island Sound which provide critical power to Long Island. The Vesper Marine Guardian:protect system is the first U.S. installation of a system combining virtual AIS technology with intelligent software to mark subsea cables and actively monitor traffic.
The NYPA, the largest state electric utility in the United States, experienced anchor strikes in 2004 and 2014 to the submerged portion of its Y-49 transmission circuit in the Long Island Sound. The underwater section of Y-49 is comprised of four independent self-contained fluid filled cables buried an average of 10 feet in the seabed crossing between New Rochelle to the north and Hempstead Bay at the south. In both incidents, the damage resulted in significant loss of cable oil, with repairs and clean-up spanning several months with crews working around the clock. The costly operations occurred during January and February, with all work in 40 feet of water under severe weather conditions.
The Vesper Marine Guardian:protect system was installed by NYPA to alert vessels to the presence of buried cables and to warn NYPA operators when shipping movements indicate anchoring might occur. Live data transmitted by ships near Y-49 through AIS is collected by Vesper Marine's Virtual AIS Beacons located at two NYPA shore facilities. The information collected pertaining to the vessel's route, speed and direction is sent to web-based software, which determines if a vessel's action is breaking any rules in a cable protection zone.
With the volume of traffic in the area, the agency needed intelligent monitoring capabilities that provide advanced warning of vessels that may potentially cause an incident, while ignoring the vast majority of vessels transiting the channel. If a vessel is determined to be anchoring within the cable area, an alert is automatically raised to the NYPA and a special AIS textual warning message is transmitted directly to the vessel alerting them of the situation. The ability to pro-actively notify vessels via a message sent to their navigation system provides additional protection against accidental anchor damage. This unique feedback loop is the first of its kind and reduces the potential for serious damage.
Prevention: a core Vesper Mission
"Prevention is the driving force at Vesper Marine," said Jeff Robbins, CEO, Vesper Marine. "Incidents like the New York Power Authority's previous anchor strikes caused a huge impact to the region in terms of financial costs, danger to work crews undertaking the arduous repair and interruption of power service, as well as the potential environmental impact of spilled cable oil. We are proud to help by providing a system to mark the cables, monitor local traffic, alert the NYPA of potential issues and notify vessels to prevent accidents before they occur."
The Vesper Marine Guardian:protect system is feature-packed enabling customization and control of how assets are marked, how alert rules are configured and what proactive messages are sent to vessels. Operators can create multiple protection zones around each asset by defining buffer areas or drawing specific coordinates. Route position lists and asset location coordinates can be uploaded in a variety of coordinate formats. Operators can also set up vessel groups and assign individual vessels to groups of trusted vessels such as work boats and tenders. They can also configure alerts based on smart rules including vessel type and vessel groups, speed over ground, change in speed (sudden slowing), change in direction (veering off course).
Changes to rules can even be tested using historical data, rather than waiting months for the next event to test their effectiveness. They system is able to integrate radar information to include non AIS vessels, icebergs, oil spills and other radar targets to determine risk. Alarm types can be set based upon severity, such as, raising an audible and/or visible alarms within the control room or network operations center, and send automatic SMS or emails to a defined group of users.
"Vesper Marine technology was selected due to its unique ability to achieve all four objectives of making the cables more visible though our fully redundant and reliable AIS hardware, ensuring the security of data collected for real-time analysis, unique software continuously looking for potential anchoring situations, and pro-active notification to both NYPA personnel and directly to the vessel," continued Robbins. "Our 'rules-based' software reacts to many more parameters than just a vessel moving slowly over a period of time. This system alleviates the requirement of 24/7 response teams, as well as any inherent notification delays to the vessel, for a more efficient and effective solution."
Virtual Aids to Navigation are here to stay. That's a good thing. Whether marking a fixed channel, a special event, or replacing a physical aid that's been displaced by a casualty or storm, virtual ATONs can be the answer to marine safety challenges. Today, the exception rather than the rule; tomorrow these high tech and versatile tools may just be the primary navigation tool for mariners and stakeholders everywhere.
(As published in the February 2018 edition of
Marine News
)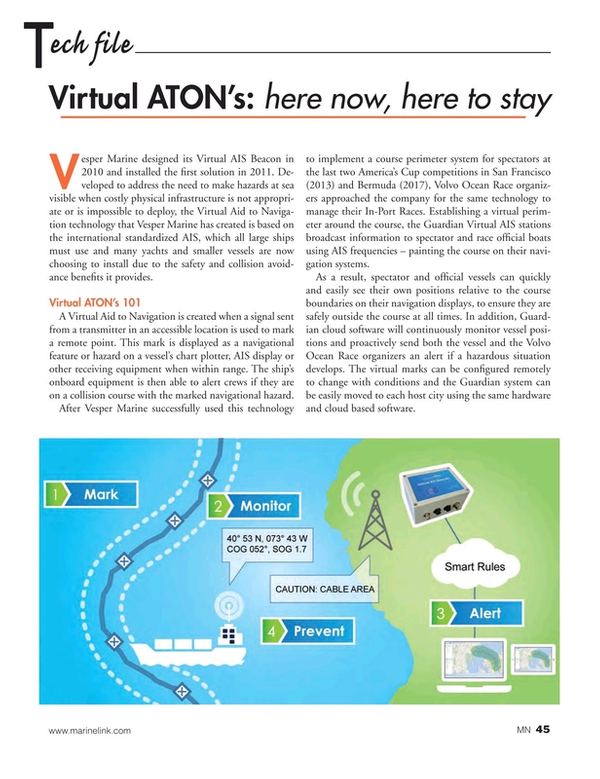 Read Virtual Aid to Navigation: Here Now, Here to Stay in Pdf, Flash or Html5 edition of February 2018 Marine News
Other stories from February 2018 issue
Content