Managing the Big Risks of Marine Construction
By Stephen Clark and Mike Perrotti
A busy market, fraught with risk, needs specialized protection.
The marine construction business is booming in the United States for many reasons. Nationwide, ports are expanding, deepening their channels to accommodate the bigger, so-called post-Panamax vessels. And, that means more than just deepening the channel. Docks, piers, cranes and other shoreside infrastructure need to be bolstered in order to stand up to heavier vessel impacts. Other infrastructure and bridges also need updating to be brought into the 21st century.
Separately, a growing recreational boating population is prompting marinas to expand their footprint to accommodate bigger yachts and other pleasure craft. And an active 2017 hurricane season left in its messy wake the requirement to rebuild docks and other structures along impacted waterways.
But these are only part of the reason that marine contractors' workload is heavy these days. Marine contractors' expertise and skill are also continuously in demand for small construction and maintenance jobs to keep US traffic moving. When construction is in or near water, it very likely involves specialized marine contractors whose knowledge and experience are invaluable. Marine contractors are tasked with performing some very risky work; therefore, protecting their property and assets requires considerable attention to managing on-the-job exposures.
Water, Waves and Weather
Marine contracting is not for the faint of heart. It ranks up there as one of the most hazardous occupations in the workforce. Just consider a marine contractor's environment. Working on or near water poses more slip or fall risk. Contractors can be swept off their feet by wave action, tide action, strong currents or swell from passing water traffic. And these conditions can change quickly, especially when adverse weather kicks in, increasing dangers that maritime construction workers face daily.
According to the U.S. Bureau of Labor Statistics, data collected from 2011-2015 revealed that the most injuries in the marine construction industry resulted from:
Overexertion
Slips, Trips and Fall
Contact with Objects or Equipment
Transportation incidents
Fortunately, OSHA offers guidance to help marine contractors address and minimize some of these workplace exposures. Operating heavy equipment on land can be challenging enough. Operating large heavy equipment, often on workboats and swaying with a waterway's current, has its own unique risks. These include mechanical damage from fatigue failure of machinery to wear and tear, sinking, improper ballasting, overstressing of motors and pumps and more.
Another risk for marine contractors is third party liability. Their operations share the waterways with a growing volume of vessels. Marine contractors' vessels are restricted in their navigation because of the work they perform, often working at a fixed location, such as a bridge. The exposure to collision while working around the clock, especially at night, is significant. Proper lighting assures that they are seen.
Tight on Talent
Only a few years ago, the whole construction industry was in a slump. As a result, many left the construction industry to pursue other fields. This resulted in a shortage of skilled workers, which has been exacerbated by recent rebuilding efforts after like Hurricanes Harvey, Irma and Maria. Given the specialized work performed by marine contractors, the strain of the talent shortage is even greater. This is a top risk management concern. A shrinking workforce translates to severe gaps in experience. Inexperience poses significant risk, especially in the challenging marine work environment.
Inclusive Insurance
Given the hazardous working conditions and the unique equipment, insurance protection is essential. It must directly address the diverse, day-to-day exposures marine contractors face. Contractors' insurance is often consists of such coverages as:
Marine General Liability includes coverage for products and operations liability for work performed from watercraft.
Marine Contractors' Liability provides coverage for property damage to marine structures.
Commercial Hull and Protection & Indemnity (P&I) protect vessel owners against physical damage to the ship and legal liability.
Bumbershoot (umbrella) provides excess liability coverage for companies with major marine exposures. Such policies cover both non-marine and maritime liability exposures—that is, protection and indemnity, general average, collision, general liability hazards, among others.
Builder's Risk and Installations includes materials, labor and reasonable overhead and profit.
Contractor's Equipment provides broad coverage including waterborne coverage.
Property includes insurance for buildings, contents, and business interruption.
Auto can also be packaged with the marine contractors program.
In many instances, coverages are packaged together to streamline the insurance buying process, as well as to eliminate possible conflicts in coverage. Recently, XL Catlin introduced one of the most comprehensive insurance coverage packages available on the market, designed specifically for marine contractors. This program is designed to simplify the insurance buying process and minimize the potential for gaps in coverage should a loss occur.
No marine contracting business is exactly the same. That's why working with an insurer with a long track record in the marine industry can significantly impact the effectiveness of a contractor's coverage. Marine underwriters are a rare breed. Insurers with a long history in the marine market pride themselves on building teams of underwriters who understand the nuances of marine contracting operations.
Policies can be tailored to meet an operation's special needs. These include per project aggregate limits, coverage for waterborne equipment and contractual legal liability including action over, automatic additional insureds, and flexible sublimits for additional coverages. Marine insurance carriers also employ marine claims specialists who understand the specific maritime laws and liabilities that apply when working on or along the water.
Final Thoughts
Marine contractors are playing a vital role in the nation's need to improve and enlarge vital infrastructure, making way for bigger shipping demands and other commercial activity. Fortunately there is a marine insurance market that understands this diverse industry's challenges.
The Authors
Based in Chicago, Stephen Clark is Vice President, National Hull & Liabilities Practice Leader for XL Catlin's North America Marine team.

Based in Ohio, Mike Perrotti is Senior Vice President, Inland Marine for XL Catlin's North America Marine team.
(As published in the February 2018 edition of
Marine News
)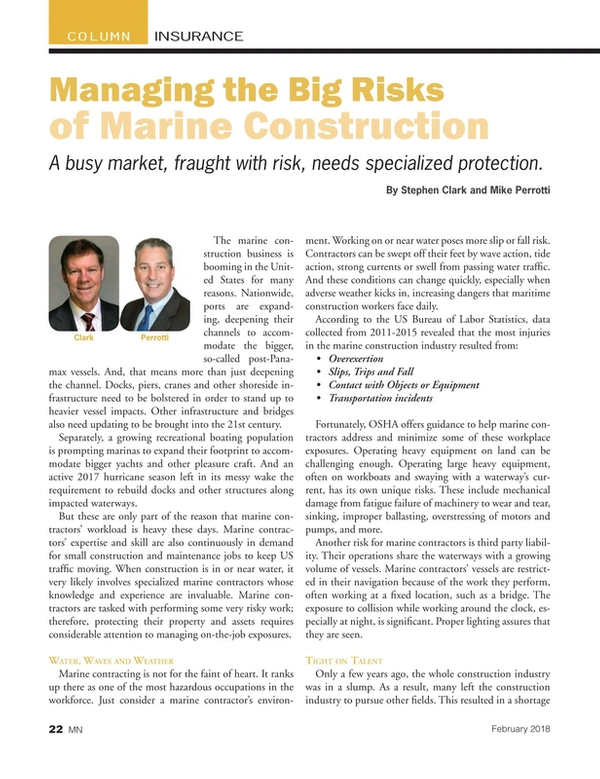 Read Managing the Big Risks of Marine Construction in Pdf, Flash or Html5 edition of February 2018 Marine News
Other stories from February 2018 issue
Content