Enhancing Historic Lake Michigan Docking Facilities
By Brian Hinrichs
A federal FASTLANE grant has been approved for S.S. Badger Ports & Harbor project impacting Manitowoc, Wis. and Ludington, Mich. A primer on how things get done.
This is a story about two communities on the shores of Lake Michigan and the unique car ferry that connects them. The SS Badger provides a nautical "highway" across one of our nation's major waterways, carrying passengers, oversized loads and trucks of nearly every kind. Essentially, the ferry provides a vital lifeline of commerce, tourism and economic growth between the cities of Manitowoc, Wis. and Ludington, Mich.
Designated in 2016 by the U.S. Department of the Interior as a National Historic Landmark, the Badger has served these communities for over 60 years. But, like many other sectors of our inland port infrastructure, docking facilities in both port cities are showing their age and in dire need of repairs. Thanks to the recent approval of a USDOT FASTLANE grant along with State funding acquired through the Wisconsin Harbor Assistance Program (HAP), financial support for revitalization is now firmly in place. A new chapter in this decades old story is about to begin.
The FASTLANE Program
Originally called Fostering Advancements in Shipping and Transportation for the Long-term Achievement of National Efficiencies, the federal FASTLANE grant program was developed to fund critical freight and highway projects across the country. In the first call for FASTLANE grants, USDOT received 212 applications requesting nearly $9.8 billion for grants, 13 times more funding than was available. Of the 212 applications, 136 represented projects in urban areas, while the remaining 76 supported rural projects.
In other words, the competition for funding was extremely tough. In fact, the grant award for the SS Badger was the only non-rail project approved – a testament to the unique nature of the two docking facilities and the multi-state efforts that define this collaborative and worthwhile project.
The Origins of the SS Badger
The SS Badger was originally constructed as a rail car ferry in 1952 and entered service in 1953. The 410' ship was specifically designed to handle the rough conditions it would encounter during year round sailing on Lake Michigan. The Badger reigned as Queen of the Lakes during the car ferry's Golden Era in the late 1950's. As changing railroad economics were condemning other car ferries to mothballs or the scrap yard, and sidelined by economics, the Badger sailed from Wisconsin to Ludington and tied up for the last time in November 1990.
The demise of the car ferries was of course devastating to the communities they served and the thousands of passengers who loved them. Things changed for the better just one year later as entrepreneur Charles Conrad committed his resources to reinvent the SS Badger to carry leisure passengers, vehicles and cargo. Today, the Badger makes the daily four-hour, 60 mile round-trip cruise across Lake Michigan from Manitowoc to Ludington from mid-May through mid-October.
Fast Forward to 2015
In 2015, Foth, a Green Bay, Wis. based engineering consulting and construction management firm, paid a visit to the harbor master in Manitowoc to get the ball rolling on needed improvements for their docking facilities and to investigate potential funding options. Additional meetings with key stakeholders including the City of Ludington along with the owner, Lake Michigan Carferry Service (LMC), soon followed. Foth, with deep experience in design, engineering, and construction management of port and harbor infrastructure projects throughout the Great Lakes Region, was a natural choice. This project also required expertise in grant fund acquisition and management – one of Foth's core competencies. A strong working partnership between all players soon developed.
The Foth team got to work conducting a site evaluation and performing preliminary engineering work to identify a series of proposed improvements to the Manitowoc and Ludington docking facilities - both short and long term.
Improvements Identified
On the Ludington side, the existing timber fender system was installed in 1930 and then renovated in 1946. Not surprisingly, the current structure was found to be in advanced stage of failure with fender walls severely out of plumb and bulging landward. The proposed work will include an approximately 260' long timber fender wall system, renovation or replacement of existing mooring dolphins, and sheet pile encasement of existing apron counter-weight foundation.
Separately, the docking facility in Manitowoc experienced major failure [to a portion of its steel sheet pile bulkhead and timber-pile fender system] from age, compounded by recent heavy wind and sea conditions experienced over the 2015-2016 winter months. Proposed work will include an approximately 420' long anchored steel sheet pile dock wall incorporating a rubber "cone and panel fender" system to absorb the forces associated with docking the 6,000 ton vessel. Dock wall concepts were developed based on material availability, longevity, environmental/site restraints, cost, landside operations as well as Badger operations to include arrival and departure maneuvering.
Transforming Infrastructure Challenges into Community Assets
The economic benefits of the Badger project are substantial. Chief among these is the value of maintaining the highway 10 connection. U.S. 10 is an east-west United States highway connecting the states of Michigan with Wisconsin, Minnesota and South Dakota by means of ferrying across 60 miles of Lake Michigan. As such, the ferry is critical to the economies of Manitowoc, Ludington and the surrounding cities and counties with an estimated annual economic impact of $35 million.

Additional benefits include:
Reduced travel time for passengers and shippers – vehicles taking the ferry save as much as 3 hours round trip;


Community impacts – reduced traffic of oversized and overweight loads (including wind tower structures manufactured in Manitowoc) going through the congested Milwaukee/Chicago/Northern Indiana Corridor;


Environmental – reduced vehicle emissions and over 1.5 million gallons of fuel savings;


Safety – as a result of reduced traffic through already congested highway systems.
The Path Forward
Foth has been engaged by the Cities of Manitowoc and Ludington, along with the Lake Michigan Carferry Service, to lead the entire project, which includes environmental due diligence, design, and construction management. Construction is scheduled to begin on both sides of the lake in October 2018 and be completed by May 2019, just in time for the ferry service to commence in May.
When the project is complete, the facilities will be updated, emergency maintenance activities will no longer be a regular occurrence, and the Badger will be better able to accommodate current and future multi-modal maritime freight and passenger movement across Lake Michigan.
A vital transportation connection that began in 1953 has new life thanks to the collective efforts of Foth, the cities of Ludington, Mich. and Manitowoc, Wis.; LMC; and the federal FASTLANE and state HAP funding programs. Transformation is possible. And, it never hurts to remind stakeholders that marine highways are critical to and the lifeblood of the nation's intermodal equation.
The Author
Brian L. Hinrichs, P.S.S., is a Senior Client Manager and leads the Ports and Harbors practice at Foth Infrastructure and Environment (Foth). He is a nationally recognized leader in developing, funding and executing sediment management and coastal infrastructure projects. He has secured over 100 million dollars in grants funds for water resource projects in the last 10 years. He is also a senior member of the American Association of Port Authorities (AAPA) Harbor and Navigation and Energy and Environment Technical Advisory Committees and a member of the Technical Advisory Committee for the Great Lakes Dredge Team.
(As published in the February 2018 edition of
Marine News
)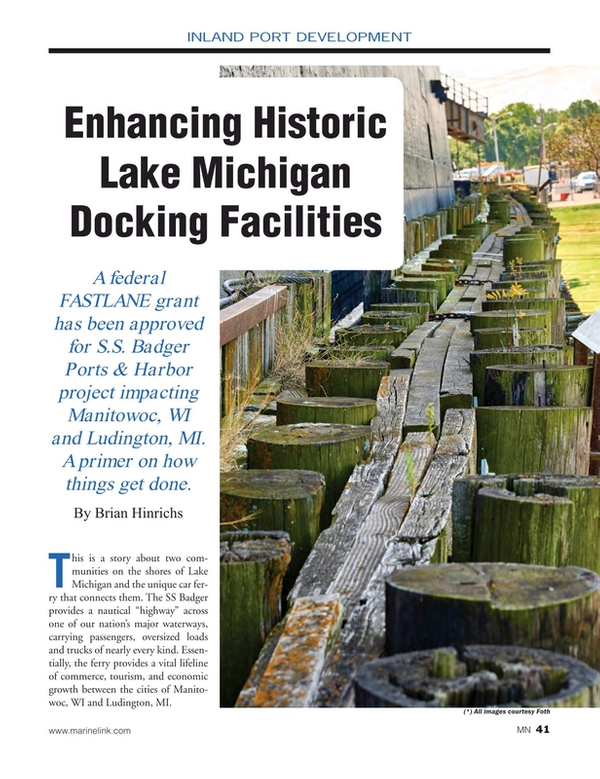 Read Enhancing Historic Lake Michigan Docking Facilities in Pdf, Flash or Html5 edition of February 2018 Marine News
Other stories from February 2018 issue
Content