Specialty Workboat Missions Propelled by Innovative Engines
By Susan Buchanan
Volvo Penta allows operators to save on fuel, cut emissions and most importantly – get the job done, in a wide array of conditions and mission sets.
Volvo Penta of the Americas is delivering fuel efficiency, reducing emissions and raising performance as it powers U.S. and Canadian vessels with modern diesel engines, Jens Bering, product management head of the Virginia-based operation said last month. The company, a supplier of marine and industrial engines, is part of Volvo Group in Stockholm, Sweden. Volvo Penta has the flexibility of a specialty firm while Volvo Group's technical and financial strength helps the unit generate new products. Gearing up in a big way for the North American commercial workboat sector, the firm has already made big inroads on this side of the pond.

Massachusetts Patrol Boat Outfitted by VP's IPS
The Thomas Paine, which joined the Massachusetts Environmental Police or MEP in July, is a new 50-foot aluminum patrol boat and the first North American commercial vessel powered by Volvo Penta's Integrated Propulsion System (IPS). MEP, headquartered in Worcester, Mass., protects the state's natural resources.
Built by MetalCraft Marine Inc., based in Kingston, Ontario and Cape Vincent, NY, MEP's versatile new vessel is equipped with twin Volvo Penta D11 510 hp marine diesel engines, driving IPS650 steerable units. For this project, New England Power Products in Connecticut, a designated Volvo Penta Power Center, supplied the propulsion system and oversaw installation.
For the Thomas Paine, Volvo Penta's IPS consists of a steerable underwater drive unit, with two forward-facing counter-rotating propellers. In this way, the drive units pull, rather than push the boat through the water, increasing efficiency. "Compared with traditional inboard shaft drives, Volvo Penta IPS drives provide 40 percent higher cruising range, 20 percent greater top speed, 30 percent better fuel economy, 30 percent lower CO2 emissions and 50 percent less noise," Ron Huibers, president of Volvo Penta of the Americas, said last month. He added, "The individually steerable drive units, with joystick docking, make a dramatic difference in maneuverability. And the dynamic positioning system, or DPS, automatically holds the boat's position and heading steady on station, regardless of winds and currents."
Like most municipal customers, MEP has its eyes both on performance as well as its budget. Massachusetts Environmental Police decided to install the IPS instead of traditional shafts in its new boat to benefit from lower fuel consumption and extended cruising range, Chris Baker, MEP's acting director, said last month. This allowed the vessel to be constructed with a smaller fuel tank, saving space and weight. "Because the boat idles a lot on station, the automatic DPS was a critical factor in deciding to go with the Volvo Penta IPS," Baker explained.
The Thomas Paine is the latest addition to MEP's fleet. The state's Coastal Enforcement Bureau patrols over 4,000 square miles of water. It enforces boat registration and titling, investigates illegal fishing and marine thefts, and mediates disputes between commercial and recreational anglers. Beyond this, the MEP force provides security patrols for LNG tankers and tall ship parades. It's a wide array of mission sets, demanding a versatile propulsion system. In this case, MEP got just what it was looking for.
Separately, Huibers said interest in Volvo Penta's IPS has grown as commercial builders and boat operators recognize the system's advantages. "Volvo Penta IPS is ideal for fast work boats, patrol boats, passenger ferries, pilot boats and wind-farm support vessels up to 30 meters, at speeds of up to 45 knots."

Sugloo Equipped with Twin Volvo Penta Turbo Diesels
Sometimes, workload and operating conditions dictate the choice of marine propulsion. Such is the case in Canada's Northwest Territories. There, Sugloo Marine, a unit of Northwind Industries Ltd. in Inuvik, is using workboats powered by Volvo Penta diesels. The mission is simple – but it is not easy: Sugloos carry cargo and supplies to remote Arctic communities in the Mackenzie River Delta and the Beaufort Sea. Sugloo Marine's operation is likely the northernmost work boat operation in North America. Operating above the Arctic Circle, reliability is paramount and downtime is totally unacceptable. Enter Volvo Penta into the equation.
The Sugloo 46-foot aluminum landing craft are powered by twin Volvo Penta D6 330HP turbo diesels, and cruise at 22 knots when empty. Each vessel is powered by two Volvo Penta 330 hp D6/DPH stern drives. Sugloos, built by EagleCraft of Daigle Welding and Marine Ltd. in Campbell River, British Colombia, were launched in 2011. With a load capacity of about 20,000 pounds, these are true workhorses in Canada's Pacific Northwest.
Since Sugloos operate more than twelve hours a day in the region's short summer, transporting people, supplies and equipment, reliability is essential, Volvo Penta's Jens Bering said. Inuvik has an average 56 days of continuous sunlight each summer and 30 days of polar night every winter.
Northwind Industries, founded in 1997 by President and Owner Kurt Wainman, operates from its Inuvik headquarters, along with a satellite office in Edmonton, building highways, bridges and oil platforms north of the Arctic Circle. The company performs long distance, heavy hauling to and from Inuvik.
Bering said the Sugloo's Volvo Penta D6-330 is a commercially rated, six-cylinder diesel engine, with a common rail fuel injection system, double overhead camshafts, four valves per cylinder, a turbocharger and after-cooler. "Together with a large swept volume and state-of-the-art Volvo Penta Electronic Vessel Control, the D6 engines provide excellent torque and acceleration, even at low RPMs--with very low fuel consumption," he said. Moreover, the Sugloo's D6 engines comply with International Maritime Organization limits on Nox, or nitric oxide and nitrogen dioxide, and U.S. Environmental Protection Agency Tier 3 emission requirements.
Volvo Penta provides Sugloo's entire propulsion system, from props to helm and everything in between, Bering said. "This means the engine, drive train and controls are perfectly matched and designed to work together," he added. Beyond this, Sugloo Marine can deal with a single VP supplier for installation, maintenance, service and warranty coverage for full propulsion systems.
Reflecting the workhorse nature of Sugloo's business, the Sugloos' features include 6,000-pound capacity Hiab cranes with a 20-foot reach; front-loading ramps, operated using two Pullmaster hydraulic winches; and 20 kw Northern Lights diesel generators, with power take-offs to run the hydraulics.
Northwind's customers include major oil and gas drilling companies, environmental remediation firms and the federal and territorial governments. Northwind employees are trained local residents, supplied with protective equipment for frigid weather survival. "As a 100-percent Inuvialuit owned and operated company, Northwind benefits from our employees' experience in dealing with harsh conditions," Wainman said. "We've been building and maintaining the highway system north of the Arctic Circle for over 15 years, and we're the premier ice-road builders in the Mackenzie Delta."
The Inuvialuit are the Western Canadian Inuit people. In July 1961, the government-built town of Inuvik was opened to replace the settlement of Aklavik, which was threatened by flooding and erosion. Inuvik is the largest Canadian community north of the Arctic Circle, with an economy dependent on nearby oil and gas exploration.
According to EagleCraft, all of its vessels manufactured in Campbell River are built to withstand tough northern weather. And, that's why the company uses Volvo Penta propulsion in Sugloos and other boats.

VP Powered Fleets Include Ferries and Shrimp Boats
Volvo Penta's marine diesel systems reach is far wide and gets favorable reviews from workboat fleets across North America because of their power performance, fuel economy, low emissions and durability, Jans Bering said last month. The False Creek Ferries fleet, started in 1982 and owned by Granville Island Ferries in Vancouver, mostly runs on Volvo Penta diesels. Several of those ferries have more than 30,000 hours on them so far, Bering said. "And we've seen impressive results in fuel consumption from shrimp boats equipped with our engines in the Gulf of Mexico," he said. In fact, Zimco Marine in Brownsville, Texas projected annual fuel savings of $68,000 annually per engine after it repowered two of its trawlers with new-generation Volvo Penta diesels in July 2013. Extrapolating those results over the breadth of the full range of domestic workboat applications would yield significant environmental improvements, while consuming much less in the way of fuel.

Special Engines for Special Missions
Today's Volvo Penta's engines have advantages that were unknown ten years ago, according to the company. The environmental benefits of VP's IPS drive include 30 percent higher fuel efficiency and lower exhaust emissions and noise.
Most VP engines have electronic fuel injection, greatly increasing fuel savings. And no additional fuel is required for cold-weather starts, keeping emissions in check.
Volvo Penta has entered the North American workboat market and, it looks like they are here to stay. That's a good thing.


(As published in the September 2014 edition of Marine News - http://magazines.marinelink.com/Magazines/MaritimeNews)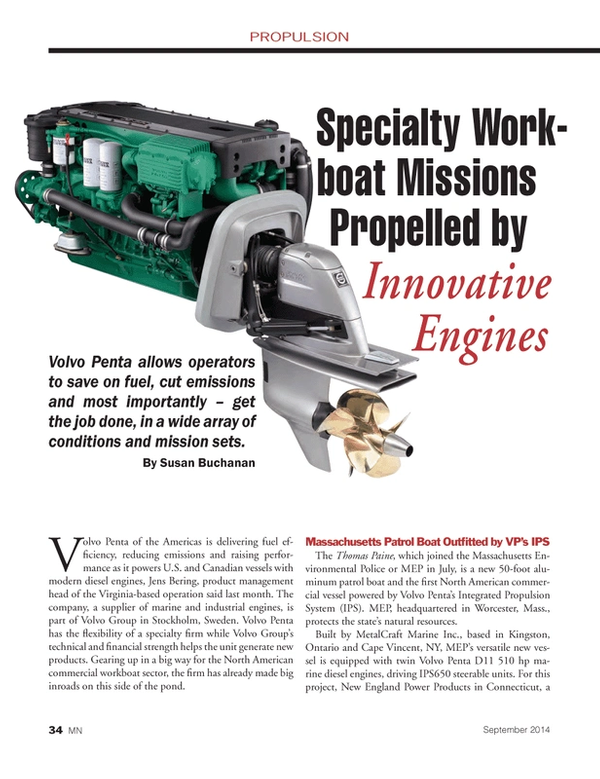 Read Specialty Workboat Missions Propelled by Innovative Engines in Pdf, Flash or Html5 edition of September 2014 Marine News
Other stories from September 2014 issue
Content