The OPC Sweepstakes: Three for the Money
By Susan Buchanan
Three Companies Compete for USCG's Lucrative OPC Contract
In February, the U.S. Coast Guard chose three finalists to design its new Offshore Patrol Cutters, with awards to Bollinger Shipyards in Lockport, La., Eastern Shipbuilding Group in Panama City, Fla. and General Dynamics' Bath Iron Works in Maine. Each company was awarded a Phase I design contract valued at between $21 million and $22 million. At the end of the 18-month Preliminary and Contract Design Phase I, the Coast Guard will choose one company's team for a Phase II Detailed Design and Construction contract for the lead OPC. Planned for fiscal year 2016, the Phase II design exercise will include options for that company to produce a first OPC and up to ten more.
In one of the government's biggest, recent surface-ship construction initiatives, the Coast Guard wants to acquire 25 OPCs, at an estimated cost of $10.5 billion. The OPC is a next-generation, medium endurance vessel that will replace the Guard's aging fleet of 210-foot Medium Endurance Cutters, built in the 1960s, and 270-foot cutters, dating to the 1980s.
Each of the three company finalists proposed a different vessel, and they'll use their $21 million to $22 million in Phase I to develop more detailed designs, with engineering. The Guard has strict specifications as to what it wants, classed to American Bureau of Shipping NVR or Naval Vessel Rules.

Vessel Designs Expected To Be Similar
"We designed following guidelines in the Coast Guard's request for proposal," issued in Sept. 2012, said Kenneth Munroe, executive vice president and chief operating officer at Eastern Shipbuilding. "You're going to see a lot of similarities between vessel designs from each of the finalists. They may come in different shapes and different arrangements but they'll be fairly close to one another. We have to follow the specifications, and you can't just throw stuff in."
What's more, "the USCG has made the point that price will be important," Munroe said. The Coast Guard wants the OPC's range and endurance to be greater than today's cutters, with improved command, control, communications, computers, intelligence, surveillance and reconnaissance equipment, along with more powerful weapons and a larger flight deck. OPC designs will incorporate green technologies that cut energy use and reduce waterborne noise and waste streams.
The Coast Guard's phased approach aims to control its final costs by creating competition in the design stage. The progressive design-build strategy sets requirements early on, reducing risks associated with construction costs and schedules. The Coast Guard released a draft of its RFP and technical data packages in 2012 to give the industry a look at its OPC requirements before issuing its RFP in September of that year. The agency talked with potential vendors in 2010 during industry day events and in one-on-one meetings.
Stakes are high for the companies involved. Landing a contract to build will create many skilled jobs in the region around the shipyard. Senators and congressmen from Florida, Maine and Louisiana are monitoring the Guard's acquisition process. Work will flow outside of the country, too, since each of the company's design teams has a foreign partner.

Huntington Ingalls and VT Halter Protest the Awards
Huntington Ingalls Industries in Pascagoula, Miss. and VT Halter Marine in Pascagoula were not chosen as finalists in February. And last year, the Coast Guard passed on designs from Fincantieri's Marinette Marine in Marinette, Wis., General Dynamics' National Steel and Shipbuilding Co. or NASSCO, and Vigor Shipyards in Seattle, Wash..
On Feb. 24 and Feb. 25, respectively, Huntington Ingalls and VT Halter Marine protested the design awards through filings with the Government Accountability Office (GAO). Pending resolution of those two protests, the Coast Guard in February ordered that OPC work be stopped temporarily. Under GAO rules, it takes 100 days from the date of a protest until the office provides a resolution. A decision on the matter is expected in June.
Huntington Ingalls is the builder of the Coast Guard's new high-endurance National Security Cutters, with four completed, a fifth to be launched this year and work under way on a sixth. Bollinger, meanwhile, is the prime contractor for the Guard's short-range patrol craft, the Fast Response Cutter.

Bollinger's USCG Work Record Is Lengthy
Of the three companies awarded OPC contracts in February, Bollinger – with its extensive record in building smaller cutters – has done the most work for the Coast Guard. Bath builds destroyers for the U.S. Navy and last built Coast Guard vessels in the 1930s. Eastern builds offshore support vessels and other commercial boats.
In February, Chris Bollinger, president of Bollinger Shipyards, said the company's award was a vote of confidence in its craftsmen and engineers, who are building Coast Guard cutters now. Bollinger's award indicates the company's could build for the agency for decades to come, he said. Bollinger has partnered with Gibbs & Cox Maritime Solutions in Virginia for its OPC design development, L3 Communications in New York for the OPC's C4ISR systems, and Netherlands-based Damen Shipyards Group--which made the parent design for the fast patrol cutters being built in Lockport now. C4ISR refers to command, control, communications, computers, intelligence, surveillance and reconnaissance.
Bollinger expects to employ more than 250 naval architects, engineers, designers and planners to support its OPC design under Phase I and its Phase II proposal for detailed design and construction. If Bollinger wins its bid for Phase II construction, thousands of jobs would be created in South Louisiana and the Gulf Coast, the company said in February. With 2,500 employees, Bollinger operates 10 shipyards in South Louisiana and Texas now and will expand to 11 by year's end. Two of those – Bollinger Lockport New Construction and Bollinger Marine Fabricators – do new construction. The company runs 28 drydocks, ranging in capacity from 400 tons to 10,500 tons.
"Our company has built more than 145 fast patrol boats for the U.S. Navy and Coast Guard since 1984," Robert Socha, Bollinger's executive vice president of sales and marketing, said. In 2008, the Coast Guard selected the company to design and build its new 153-foot Fast Response Cutters. "Our Lockport facility has successfully designed, constructed and delivered eight of the FRCs and was recently awarded more, bringing our contracted FRC units to 24, with an option for up to 34 units," Socha said.
Other government awards to Bollinger include USCG 110-foot Island Class patrol boats in 1986; the U.S. Navy 179-foot Cyclone Class patrol ship in 1977; and USCG 87-foot Marine Protector Class patrol boats in 1993.
Bollinger's current, commercial construction includes program designs for ABS-classed 300-foot and 270-foot DP2 platform supply vessels, along with the completed 210-foot and 234-foot DP2 designs for construction supporting deepwater oil. "Additional programs include lift boats, dredgers, multi-purpose support vessels, docking tugs, articulated tug and barge units, tank barges and deck barges, as well as rigs and mini supply vessels," Socha said.
Repair and conversion are big parts of Bollinger's business. "New builds need a safe and experienced place to go for their regulatory and day-to-day repairs and conversions," Socha said. Founded in Lockport in 1946, the company is family owned and operated.

Eastern Is Surrounded By Military Bases
Kenneth Munroe said Eastern feels honored to be selected as one of three finalists. "At the same time, we believe we have an exceptional design and the facilities to build these vessels for the Coast Guard at our two shipyards in Panama City," he said. "We've teamed with STX Marine, our design group, and with Northrop Grumman--our prime subcontractor for supplying C4ISR and our integrator for the vessel." Based in South Korea, STX Marine has offices in Houston and Vancouver, while Northrop Grumman is headquartered in Virginia.
Eastern is building 300-plus-foot offshore supply and construction vessels now and delivering one about every six weeks. "We're located in Bay County, along with an Air Force base, a Coast Guard base and a Navy base," Munroe said. "If selected for Phase II detailed design and building a ship as well, we would put hundreds of people to work in construction, in addition to engineers. It would bring up to 2,000 jobs to northwest Florida."
In February, Brian D'Isernia, president and CEO of Eastern Shipbuilding, said now that the Coast Guard has evaluated proposals from eight U.S. companies, based on technical, management, past performance and price factors, affordability will be the main consideration in its OPC acquisitions. With Eastern's track record of building 110 vessels on time and on budget since 2002, and with Bay County's tradition of supporting the military with its three bases, Eastern is the perfect place for building OPCs, D'Isernia said.
D'Isernia founded Eastern in 1976 and expanded it from a 15-employee shipyard to 1,600 people today, Munroe said. "We have a very strong record and really want to do the best job possible for the Coast Guard. We look forward to the Phase I process and moving into Phase II." Munroe noted that in the 1980s Eastern made a major modification on a 210-foot Coast Guard cutter based in Panama City.

Bath Wants To Expand Its Customer Base
Bath Iron Works – busy producing U.S. Navy destroyers – is partnered with Spanish shipbuilder Navantia and L-3 Communications on its OPC design team. Bath has one shipyard in Maine, where it employs about 5,400 people. The company has worked with Navantia for 30 years.
"Since the two shipyards that weren't selected by USCG for the OPC's preliminary design phase have filed formal protests, it would be inappropriate for us to discuss our OPC proposal at this time," Jim DiMartini, Bath Iron Works spokesman, said last month. "If those protests are resolved and efforts resume, the open competition between the three yards that were down-selected will continue." But because competition will be intense, Bath will continue to refrain from discussing its OPC design and team.
In February, Bath Iron Works president Fred Harris said the company's Coast Guard design award was a key development since the shipyard wants to expand its customer base and maintain its design and manufacturing workload. "We will continue our yard-wide actions to ensure we can build these Coast Guard ships affordably, safely and on or ahead of schedule," he said. February's "BIW News," a monthly letter on the company's website, said the frigate-sized OPC is aligned with Bath's capabilities, experience and workload, and that OPC construction would fit nicely into the company's schedule for later this decade.
"This competition reflects the state of the shipbuilding industry in our country as three shipyards go head to head to secure much-needed work in an extremely tight market," Harris said in the February newsletter. "Without doubt, the winner will ultimately be determined by cost."
Also in the February letter, Doug Nelson, Bath Iron Work's OPC capture manager, said the Coast Guard awards suggest that technical designs from each competitor, as well as their capabilities and facilities – existing and planned – are satisfactory. "So for Phase II, that only leaves cost," Nelson said. Bath's OPC team is expected to grow somewhat from the core group that developed its conceptual design and proposal. Phase I engineering, design and planning work will be done in Maine, with support from L-3 Communications in New York and Navantia in Spain.
"With its skilled workforce and an outstanding record of designing, building and providing superior life-cycle support for ships, Bath Iron Works is uniquely positioned to build vessels like the Coast Guard's OPCs," Maine's U.S. Senators Susan Collins and Angus King said in a joint statement on Feb. 11. The OPC would be an excellent fit for the company and would create good jobs in Maine, they said. Collins is a senior member of the Senate Defense Appropriations Subcommittee, and King is a member of the Senate Armed Services Committee.
Bath is known for building quality vessels that last. Bath's USCG cutter Perseus, launched in 1932, sailed for 76 years. The boat was transferred to the Navy during WWII, then returned to the USCG for patrolling before it was decommissioned in 1959. Perseus was sold to Circle Line Cruises in New York City, where it sailed for another 49 years, and was a rescue boat in the city's 9/11 disaster. Sister ship USCG Calypso, launched by Bath several months before Perseus, served the Coast Guard and the Navy.

OPCs: A Modern-Day, Multi-Missioned Workhorse
According to the Coast Guard, the new OPCs are a needed bridge between its National Security Cutters and its Fast Response Cutters. The service's current fleet of 210-foot and 270-foot Medium Endurance Cutters has become expensive to maintain and operate and is in many ways technologically obsolete. Beyond this, the Coast Guard simply can't afford to replace all of them in a hull-for-hull program. The coming OPC will therefore bridge the mission gap between the two hulls; satisfying both requirements. Medium Endurance Cutters are the workhorse of the Coast Guard fleet, fulfilling responsibilities for long-distance missions carried out by high endurance cutters and missions closer to shore, performed by patrol boats. Building of the Coast Guard's first 11 OPCs is likely to extend through 2028.


(As published in the May 2014 edition of Marine News - http://magazines.marinelink.com/Magazines/MaritimeNews)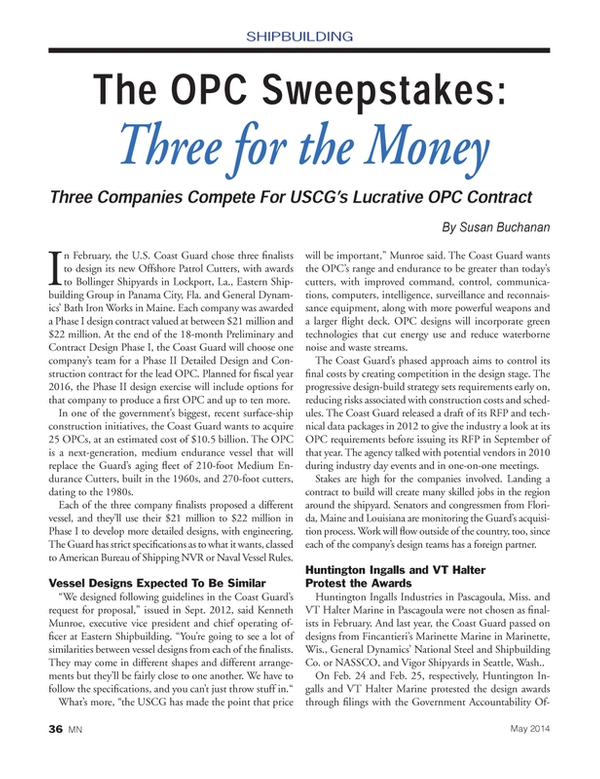 Read The OPC Sweepstakes: Three for the Money in Pdf, Flash or Html5 edition of May 2014 Marine News
Other stories from May 2014 issue
Content