AEP Barges into the Liquid Transport Markets
By Joseph Keefe
Answering the needs of longstanding clients, bulk transport giant AEP dips its toes into the liquid transport arena.
AEP River Operations needs no introduction for most MarineNews readers. One of the true river giants operating on America's domestic inland waters today, AEP is headquartered in St. Louis, Missouri, and is primarily known as a barge company that provides transportation of dry bulk commodities throughout the inland river system. AEP River Operations is owned by American Electric Power, one of the largest electric utilities in the United States, delivering electricity to more than 5.3 million customers in 11 states. The current AEP fleet includes more than 79 towboats ranging up to 11,000 horsepower and more than 2,900 hopper barges, moving more than 65 million tons annually. Very soon, as AEP acquires a newbuild fleet of 20 state-of-the-art tank barges, that mix of equipment is about to change.
In business for 41 years, AEP continued to grow over time, acquiring the barge line MEMCO in 2001, which was then combined with the River Transportation Division (RTD), resulting in the name change to AEP River Operations LLC in 2008. The company headquarters are located in Chesterfield, MO. AEP River Operations additionally has fleeting services in Convent and Algiers, LA, and a shipyard in Belle Chasse, LA. Crew and operations offices are located in Paducah, KY, and Lakin, WV.

Dipping It's Toe in the Water
Already ranked as the second largest commercial inland tug and barge company in America, trailing only Ingram, the reason for AEP's foray into the uncharted waters of tanks barges wasn't necessarily readily apparent, but nevertheless, says AEP President Keith Darling, the move makes a lot of sense.
Rather than thinking the company's excursion into the liquid freight market is a means of offsetting any decline in coal tonnage, though, as some may believe because of the bleak predictions regarding demand for domestic coal, Darling explained that it evolved more as a response to his customers' urging them for years to move their liquids.
"Coal's not going away," he said. "It's just that the current shifts in the marketplace indicated it was the right time for us to finally jump into the tank barge market. It will not only allow us to offer our customers a more complete range of services, it will be a good way for us to diversify our revenue stream." Today's AEP River Operations' barge fleet primary routes are Chicago to New Orleans and Pittsburgh to New Orleans including all points in between. The majority of their open hopper fleet moves tonnage on the Ohio River and its tributaries along with some movement to New Orleans. Due to the harsh winter weather, says AEP, its combined fleets are booked to capacity for the immediate future. AEP defines "full capacity" as meaning that their barge fleet has frequent multiple opportunities to move tonnage for shippers, versus only one option or no bid interest at all. On the new, tank barge side of the equation, the first liquid loading for AEP River Operations was a load of ethanol from St. Louis, MO to Vicksburg, MS.
Up until now, AEP River Operations moved only bulk cargoes such grain and grain products for all of the major grain exporters as well as coal for most of the major coal producers in the U.S. Additionally, they transport steel and raw materials for steel making, with salt, petroleum coke, limestone, and cement rounding out their capabilities. That line-up is about to widen. AEP expects to operate its new fleet of 20 tank barges in both the day rate and point-to-point markets. The 20 barges being delivered will not have heating coils and AEP expects to focus on the carriages of chemicals.

State-of-the-Art
JeffBoat is building all of the tank barges for AEP. And yet, AEP has its own shipyard, as well. AEP Belle Chasse shipyard is an 11 acre facility has 1,100 feet of waterfront equipped with seven dry docks ranging from 1,200 to 2,700 tons and includes a full-service machine shop. That yard is busy enough on its own, having recently completed several major repowers to Tier 3 engines on vessels ranging up to 6000 hp. That said, the vast majority of AEP's barge fleet, which totals some 1,000 open and 2,000 covered hopper barges, was built at Jeffboat, Darling said. "We have a very good, longstanding relationship with them. Their workmanship is excellent, as is the ongoing support and service from the Jeffboat team."
Like most things at AEP, the new tank barges will meet and more than exceed applicable safety and equipment standards on the water today. Beyond the Tier III John Deere engines, the barges are built with 6.4 pound pressure tank tops with the Superac High Velocity, 6 PSI pressure relief valves which will provide a greater degree of safety in the event of overpressure. Several stages of safety coverage against spills provide maximum redundancy in the form of high level alarms, high level shut downs, gauge trees, high level dipsticks, sight glasses, and overflow through PV valve into the containment space on the tank top.
Keith Darling explains, "The cargo tanks have "six-pound tops," so named because they can withstand pressures of 6.4 pounds-per-square-inch before venting. The number is double what is most often found on the river, and will result in greater safety and minimal emissions, in keeping with AEP's established record of environmental stewardship." Additionally, each barge will be equipped with a Hermetic closing gauging and sampling system. According to AEP, the vapor recovery system was designed and installed by the construction shipyard under the authority of the U.S. Coast Guard.
To say that the new units will be robust in their construction would no t be overstating the case. The 6.4 PSI external framed tank top is 100% seal welded to provide greater strength and prevent rust bleeding. The barge is built with ½ inch side plate shell and an extra rub bar for greater protection and added manhole openings on both ends of each wing tanks allow for easier access to wing tanks.

New Markets, New Training & Protocols
Stepping into the tank barge market constitutes a whole different market sector, but also a whole new set of rules. AEP set about the process with eyes wide open and as the first barge was being delivered, they were ready for what came next. Ramping up for the handling of liquid cargoes required training and education of AEP's entire workforce. Already, more 1,000 employees have been trained over the course of the past eight months and the firm expects to complete the process very shortly. Using a combination of third-party and in-house trainers, different layers of awareness training and 40-hour Hazwoper sessions were held. With the help of a third-party vendor, cargo transfer procedures, ballasting and Vessel Response Plans were formulated in accordance with U.S. Coast Guard requirements. Beyond this, AEP took several groups of employees through the construction shipyard to show how a tank barge is put together and the equipment which is required. AEP, for the time being, will use contract tankerman services. Those vendors, according to AEP, will be audited to ensure environmental and operational standards.
The entry into the tank barge markets involved tremendous changes in AEP's safety and training protocols. A "Liquid Addendum" section to AEP's RCP manual, which deals with vessels having tank barges in tow, was added. The standard new hire training course was changed to add Awareness and Security training to the agenda and AEP will require refresher training for all individuals who received the 24 hour technician level or 40 hour Hazwoper training, including all wheelhouse personnel, Barge Maintenance, Qualified Individuals and Incident Command Team members.

Around the next Bend
AEP River Operations began operations of its new Liquids Division at the end of January with receipt of the first of 20 tank barges. All 20 units are expected to be delivered within 2014, meaning AEP will soon impact the inland tank barge markets, in a small way, at first. As the possibility of increased tank barge traffic increases, especially with the very real possibility of Coast Guard approvals of the carriage of fracking materials on inland rivers also increases demand for existing tonnage. An AEP spokeswoman would not rule out further expansion down the road. In the meantime, look for AEP to bring the same commitment to safety and environmental performance to the transport of liquid products that they have offered for dry commodities for the last 41 years. That's good news for everyone.


(As published in the April 2014 edition of Marine News - www.marinelink.com)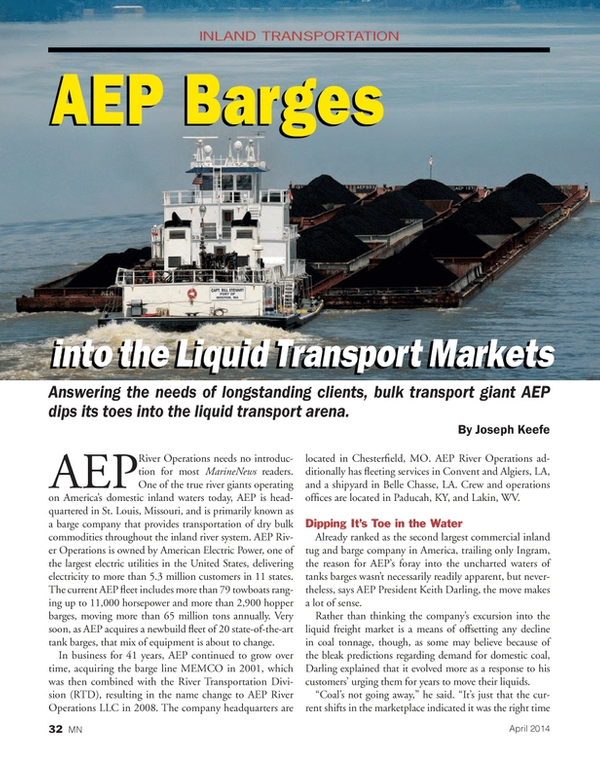 Read AEP Barges into the Liquid Transport Markets in Pdf, Flash or Html5 edition of April 2014 Marine News
Other stories from April 2014 issue
Content